"Wonder Cali: Lost in Lust" from Cali Logan
Wonder Cali is on a mission to find SuperGirl. Cali finds SuperGirl's clothes but that is it. She looks up to see Keri but doesn't know who she is. Keri tells her that she will find out who she is soon enough.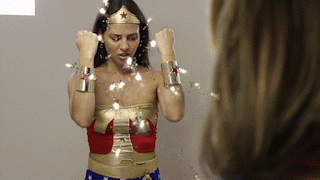 Keri throws some magic towards Cali and she thinks that she blocked it. Cali asked what was that supposed to be. Then she began to feel dizzy and then fell to the floor and went to sleep.
When Cali came to she was standing with her hands tied above her head. Keri took advantage and began punching Cali in the belly. Cali tried to tell her that it didn't hurt and Keri didn't know who she was. Cali thought otherwise but wasn't going to say it out loud. Keri continued this for a while, then she exposed Cali's breast. Kissing them Cali tried to tell her to stop. Keri knew there was no one to stop her so she continued punching Cali in the belly and kissing on her. Once Keri wanted her somewhere else she punched Cali in the face to make her go to sleep.
Cali woke again laying on a table this time and she was in a daze. Keri was there and she pulled Cali's top back down saying that she was a little more dressed then how she had left her before. She began tit worshiping Cali again and kissing her. Cali really didn't have much fight in her as Keri seemed to be more powerful. Keri told her that she was going to come for her and pulled out the wand.
After Cali came, she became a slave to Keri. Made to worship Keri's tits and scissor her. Cali was mesmerized and became apart of Keri's harem.
This clip runs 20 minutes long with Superheroine, super villain, tit worship, lesbian scissoring, magic control, female training, woman following orders, belly punching, mesmerize and the 1080hd format can be found in Cali Logans Power and Peril under the Superheroine Category: http://c4s.com/62775