"Wonder Girl Desi vs. The Alien Hunter" from SHG-Media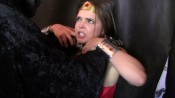 Here's a trailer for a brand new release from SHG-Media called Wonder Girl Desi vs. The Alien Hunter. This is apparently a custom video in which the client requested multiple specific moves/scenarios, so keep that in mind as you gaze upon the images and trailer below.
Wonder Girl Desi vs. The Alien Hunter from SHG-Media
In this custom video produced by Alex David, Wonder Girl Desi goes undercover to find an alien hunter. This very sexy young woman finds herself in over her head when she encounters the Alien Hunter before transforming into the powerful Wonder Girl. She finds herself in combat with not only the Alien hunter but his human helper. This video is loaded with bear hugs and also contains alien versus Wonder combat, magic, belly blows, KO, cradle carry, over shoulder carry, hands over head bondage, choking, Low blows.
PLEASE NOTE: This video has a running time of 29 minutes and comes as one 835 Megabyte .WMV file. This video REQUIRES a high speed internet connection to download and we recommend windows media player OR VLC player for viewing.
Purchase
Wonder Girl Desi vs. The Alien Hunter
at
SHG-Media