"Wonder Woman vs Bad Santa" from Anastasia Pierce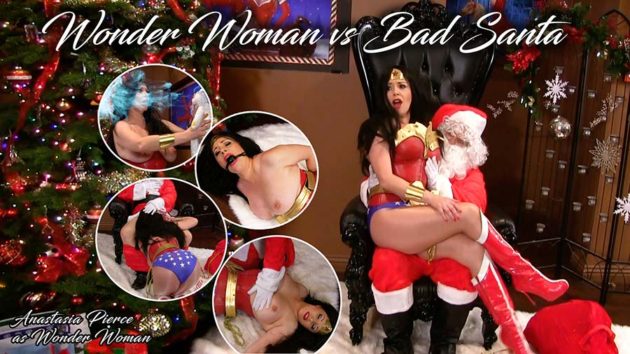 SURPRISE Here is something NEW for the holidays and for everyone who loves Wonder Woman.
It has just been released… and it is very inappropriate! Taboo actually.
I have been wanting to shoot this story for 3 years! Time always seems to fly around the holidays. But I am so glad I finally got to shoot this naughty fantasy. Enjoy!
Happy Holidays to All
WONDER WOMAN VS BAD SANTA
FULL HD – https://clips4sale.com/5196/22469031/cid746da60019dd8524d50d0852c9
SD – https://clips4sale.com/5196/22469035/cid746da60019dd8524d50d0852c9
Starring: Anastasia Pierce as Wonder Woman, Santas Claus as himself
Summary: Wonder Woman is opening her Christmas presents when Santa Claus pays her a visit. At first she is excited to find out that he really does exist and can't believe that he stopped by just to visit her on Christmas eve!
He even brought her a special gift… But quickly Wonder Woman finds out that the Santa she has heard in fairy tales is very different from the real one! Gropy, inappropriate and very horny! Santa is about to get his Jolly on with the curvaceous Wonder Woman. The Super heroine will be helpless against the jolly man. A super heroine holiday fantasy like you have never seen before!
Includes: Anastasia Pierce, Wonder Woman, Santa Claus, Christmas Fantasy, Super heroine in distress, Original Super Heroine costume, Catfight, Sleepy, Limp Fetish, Groping, Shiny Pantyhose, Humiliation, Curves, Bit tits, Sex Slave, Bondage, struggling, Overpowered, Cosplay, Parody, Helpless Super Heroine. No escape.