"Wonder Woman vs. The Alien Queen" from Anastasia Pierce
Anastasia Pierce presents Wonder Woman vs The Alien Queen – Tentacles Trap & Sex! (adults only)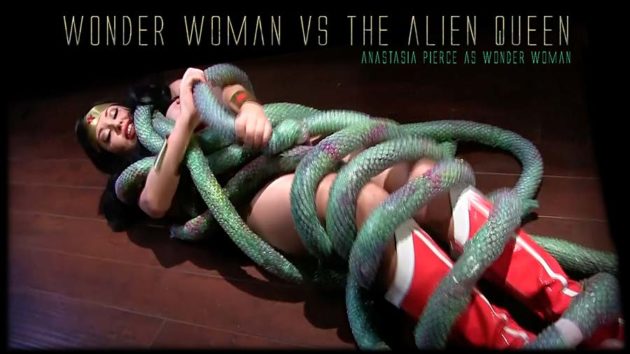 HD 1920 – https://www.clips4sale.com/5196/19663223/cid04b347683e8f0ba053834a03cb
HD 1280 – https://www.clips4sale.com/5196/19663243/cid04b347683e8f0ba053834a03cb
or www.AnastasiaClips.com

Starring: Anastasia Pierce as Wonder Woman and Kendra James as Professor Zabrinskie

Summary: Wonder Woman is checking on a distress call placed by Professor Zabrinskie from the Nasa team who is working on some Neptunian research.

When Wonder Woman arrives at the home of the scientist she doesn't find any evidence of any wrong doing or any alien activity until.. it's too late and she gets attacked by a beast from out of space. Soon the Amazonian will be wresting the alien trying to get free from her numerous tentacles but overwhelved the beast Wonder Woman will give in and let the beast have her way with her…

Includes: Anastasia Pierce as Wonder Woman, Original Super Heroine Costume, Shiny Pantyhose, Aliens and Monsters, Tentacles Sex, Stuck, Catfight, SHIP, Damsel in Distress, Cosplay, Creature, Beast, Wet and Messy, Alien Sex , Fighting, Punching, Sci-fi, Trap, Special FX, Parody, Weak, Helpless. Stripping, Humiliation, Peril, Heroine in Distress and Peril. Demise, No Escape!
Purchase this video at AnastasiaClips.com