Wonderousgirl 3 from SHG-Media
…And the merciless beating of Wonderousgirl continues in the third installment of SHG-Media's Wonderousgirl series.  While the first episode showed a little bit of Wonderousgirl's fighting ability as she attempted to fend off the villains, Episode 2 focused almost exclusively on the beat-down of Wonderousgirl.  Episode 3 continues that tradition as Wonderousgirl is beaten up and down, left and right from beginning to end.  Fans of superheroine peril now have a third peril-intensive episode to enjoy.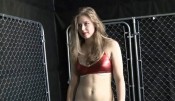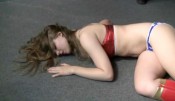 The episode pretty much assumes that you've seen the first two installments as there's no recap of previous episodes.  Either that, or it probably doesn't matter to you how Wonderousgirl ended up in this situation—weakened, surrounded by three (and later two) ugly, monsterous villains, unable to escape.  But fans of heroine peril who haven't seen episodes 1 or 2 can probably provide their own backstory.  When the villains are distracted, Wonderousgirl tries to crawl to her escape, but her attempts are futile.
The bad guys, egged on by the evil villainess from previous episodes, begin beating the hell out of Wonderousgirl.  They pick her up off the ground and deliver punches to her belly, one guy holds her arms back while another punches her, she's picked up off the ground by a reverse bearhug while another villain delivers low blows, she's kneed in the crotch, has her hair pulled, has her back bent over the bad guy's knee, gets slapped in the face, stretched apart, thrown against a well, and is basically subjected to every conceivable form of beating.
But that only takes us to about the halfway mark.  Now Wonderousgirl is tied up with her hands over her head while the bad guys torture her with a taser.  They also belly punch her as she's being tasered (why that's not a very nice thing to do, is it?).  Finally, Wonderousgirl receives more taser torture while tied to an upright metal table, but this time the villainess applies the taser to a very sensitive area, causing Wonderousgirl to pass out.
So there you have it.  The Wonderousgirl series is basically non-stop superheroine punishment right from the beginning.  Unlike Rye's The Battle for Earth series, there isn't a lot of story here.  Wonderousgirl is basically just brought into a room and then beaten and tortured by the bad guys.  And that's the intention, of course.  This series is aimed squarely at peril fans, and they should enjoy this episode as much, if not more, than the previous two.
–
–