"X Club Wrestling Episode 54" from Pro Style Fantasies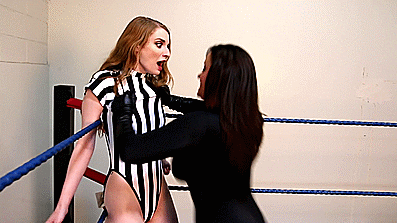 NEW!
X Club Wrestling Episode 54!
In HD!
In recent episodes of XCW, we've seen head official Ela Darling become increasingly subject to the influence of Jessica Ryan and the Mean Girls; it would appear that Ela has been using her position to keep Christie Stevens in title contention!
Meanwhile, The Dominator has been relegated to lower-card matches against cream puffs like Lady Amazon and Staci the School Girl. Well, the Dominator has HAD it, and decides that the only way to get another shot at the XCW title is to make Ela HER bitch!
Naturally The Dominator attacks Ela before her match, focusing her attentions on Ela's vulnerable pussy–kicks, punches, wedgies, rope bouncing, rope drags, karate chops, and more!! Then The Dominator strips Ela completely naked and subjects her to some psychological domination! Then, of course, The Dominator pulls out a strapon and FUCKS Ela into utter submission! (softcore)
That's when SUPER HAWK (Idelsy Love) bursts from the dressing room for her match–only to find Ela being ravished!! "Fear not, Ela, I'll save you!" cries the valiant superheroine!
Super Hawk is the ultimate jobber, unfortunately, and can do little to help poor Ela. But she does manage to annoy The Dominator well enough that the latter begins to focus her attack on Super Hawk! Super Hawk is slapped silly, is subject to low blows and breast blows, wedgies, before Ela and The Dominator both sexually HUMILIATE Super Hawk like she's never been humiliated before!
And then, The Dominator orders Ela to destroy Super Hawk's pussy….
In this exciting episode: Lots of low blows (punches, kicks, chops, rope drags, knees), wedgies, bitch-slapping, stripping, sexual humiliation/domination, breast attacks, fondling and groping, domination of the ref, superheroine costume, breast licking, strapon, lesbian domination, orgasms, rag dolling, two-on-one, and more!!
Starring Idelsy Love, Ela Darling, and Christina Carter!
32 Minutes! Only $25!
Purchase this video at Pro Style Fantasies