"Zatanna vs Catwoman" from Anastasia Pierce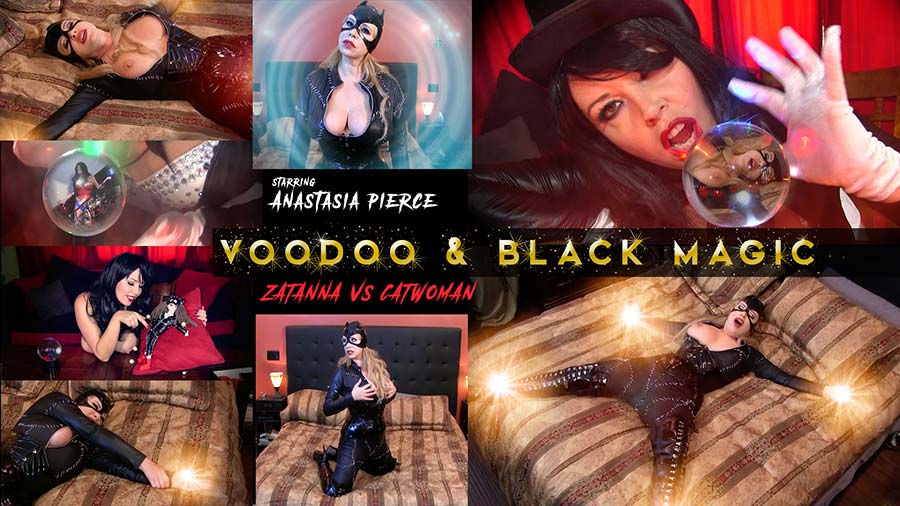 VOODOO & BLACK MAGIC, Zatanna vs Catwoman – a Super Heroine Magic Control and PERIL Parody
HD 1920 – http://www.clips4sale.com/5196/20899141/cid746da60019dd8524d50d0852c9
HD 1440 – http://www.clips4sale.com/5196/20899135/cid746da60019dd8524d50d0852c9
HD 1280 – http://www.clips4sale.com/5196/20899147/cid746da60019dd8524d50d0852c9
Starring: Anastasia Pierce
Synopsis: Zatanna is still on the loose doing evil. As she is reading in a crystal ball asking for guidance from dark spirits she sees Catwoman appear. She knows she is going to eliminate Catwoman. Using her voodoo doll she will be sliding pins deep in her arms and legs. Thus making Catwoman suffer in reality. Feeling the Spell that Zatanna has put on her. She will be helplessly trying to struggle free but helpless will have to take the full extend of Zatanna black magic… Is this the end for Catwoman?
Includes: Anastasia Pierce, Zatanna, Catwoman, Wonder Woman, Puppet Master, Voodoo, Black Magic, Spell, Trap, Magic Control, Voodoo Doll, The Occult, Bizarre, Doll Fetish Helpless superheroine, Bondage, Struggling, Damsel in distress, Authentic super heroine legendary costumes, SHIP, Super Villain, Fantasy, Mind Control, Humiliation, Parody, Weak, Helpless, Peril, Super-Heroine in Distress. Lost of Special FX, DOOM, NO Escape
Book a custom video with Anastasia as your favorite Super Heroine Today!
Check out Previous adventure with Wonder Woman:
PUPPET MASTER & BLACK MAGIC, Zatanna vs Wonder Woman
https://clips4sale.com/5196/16376016/cid746da60019dd8524d50d0852c9