2 New "Lady Ultra" Videos from UltraHeroix
UltraHeroix has released not one, but two new Lady Ultra videos. Read the company's announcement below about this rather unconventional release strategy, and check out more information about both videos.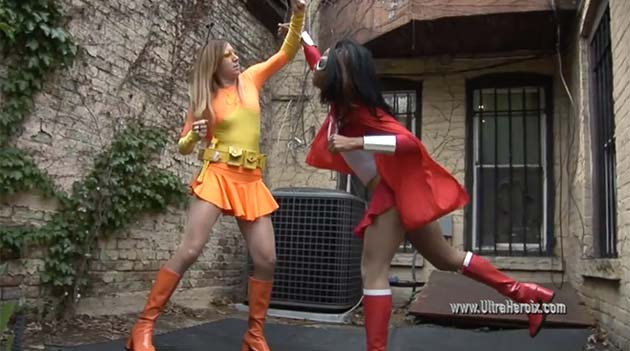 Message from UltraHeroix
There's a couple of reasons why we decided to release 2 videos together. The main reason is that I'm expecting the birth of my second child in February so I'm going to be pretty pre-occupied with this new family addition for the next few months so the 2 videos is to hold over fans for a bit. The second is we never did it before and I'm curious to see how it'll do, the first was meant to be released awhile ago but we had problems with the file and we were lucky to recover it. So, since it was shorter than normal, I wanted to have a longer one with it. Besides, February is black history month so why not have 2 videos featuring our black super heroine, Lady Ultra.
---
Return of Lady Ultra 2
Lady Ultra has been defeated and captured by Death Punch, now she must find a way to break free and defeat the villainess before it's too late.
---
Lady Ultra: Revenge of the Doctor
After defeating Death Punch, Dr. Mindkill gets the drop on the weary heroine and easily defeats her. It's up to Lady Ultra's allies, Dynafly and Crimson Cat to rescue the heroine or end up as casualties in the Doctor's revenge."
Purchase both videos at UltraHeroix