2 New Videos from Pro Style Fantasies
Pro Style Fantasies has released two new videos featuring Emily Addison, Karlie Montana, Annie Cruz, and Melissa Jacobs. Check out more information below.
[flowplayer id="71748″]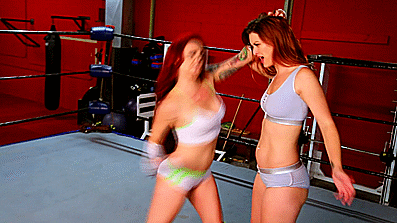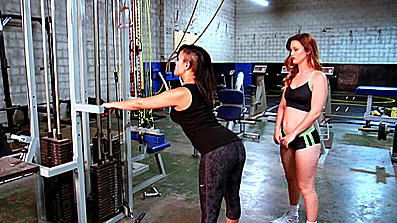 NEW!
Holiday BONUS VIDS!
"Karlie Enslaved, Emily Destroyed!"
AND
"The Workout"
In HD!

Two super hot custom videos for the price of one!!

First we find Karlie Montana completely DOMINATED by The Warrior, who works over her helpless opponent's pussy and breasts with brutal attacks until Karlie finally agrees to be The Warrior's new slave!

Emily Addison tries to help Karlie, but soon finds herself double-teamed by Karlie and The Warrior! The Warrior delights in ordering Karlie to DESTROY Emily's supple and bouncy breasts! Emily's breasts are punched and smashed with forearm blows, bitten, licked, kissed, tweaked, and clawed, all while The Warrior focuses her own attacks on Emily's vulnerable pussy!

It looks like The Warrior is even going to make Emily cum at one point–or is that indignity too nice??

Then in our second feature we join Karlie as she seeks out Annie's help working out. Annie soon proves to be a perv, though, as she takes every chance she gets to grope Karlie's gorgeous ass.

"Hey, it's all part of the workout," she insists, but soon it's evident that she just wants to have her way with Karlie. Annie knocks Karlie out, first with a sleeper and then with bear hugs, and then takes advantage of Karlie's helpless state to get herself off!!

Included in these HOT and exciting videos: Wrestling, brawling, lots of low blows, lots of breast attacks, sleeper, bear hug, stomps, forearm smashes, double-teaming, rag dolling, stripping, breast licking and kissing, breast biting, nipple tweaking, boob clawing, booty bouncing, sexual domination, shattered dreams attacks, knees, humiliation, and much more!!!

Starring Emily Addison, Karlie Montana, Annie Cruz, and Melissa Jacobs!

40 minutes of HOT action! Only $24.95!! MP4 format. HAPPY HOLIDAYS EVERYONE!!!
Purchase this video at Pro Style Fantasies