2 New Videos from Velvets Fantasies
Velvets Fantasies has released two new videos: Very Merry Knockout Part 9 and Bring In The Fembots.
Very Merry Knockout Part 9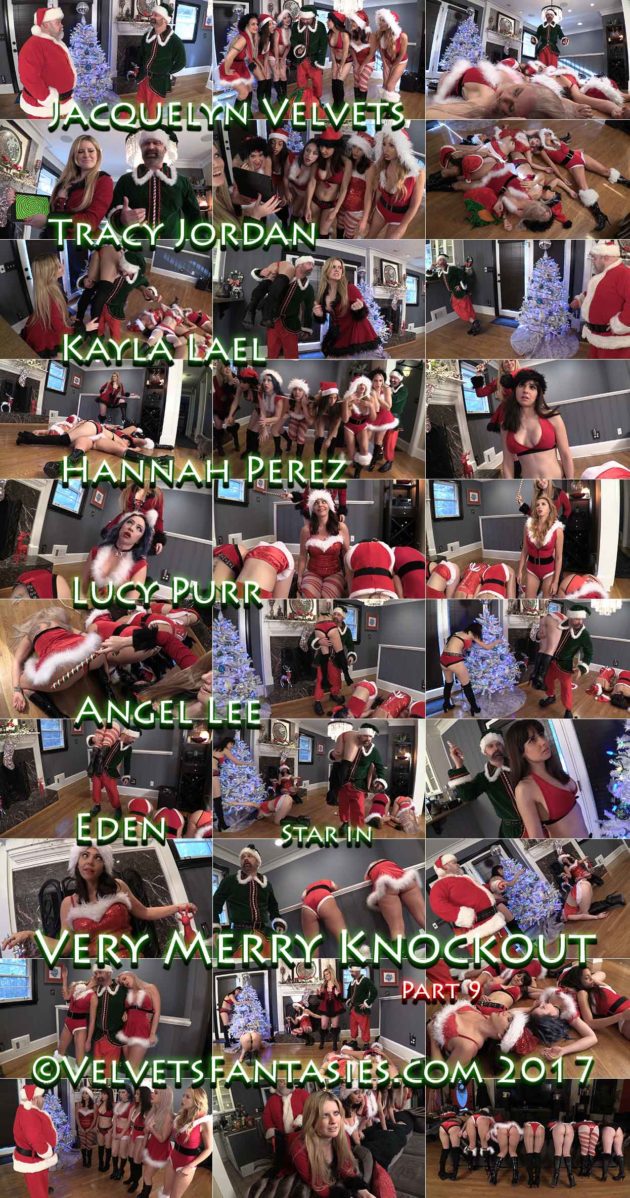 Starring Jacquelyn Velvets, Tracy Jordan, Kayla Lael, Hannah Perez, Lucy Purr, Angel Lee, Eden, Scott Torvea and Photognome as Santa!

It's that time again! Time to sit back, put on your favorite Christmas sweater, sip some eggnog, and enjoy a brand new Velvet's Fantasies Christmas special!

This time around, Scott the elf somehow manages to get himself into deeper trouble with Santa…making it all the way to the top of the naughty list days before being tasked with decorating the entire town for the holidays! Santa leaves him to his task, but Scott decides to cheat by ringing the magic elf bell in order to trick one into working for him. Scott swings the instrument a bit harder than needed, however, calling SIX lovely elves forth (played by Eden, Lucy Purr, Hannah Perez, Angel Lee, Tracy Jordan, and Kayla Lael). Scott screams in terror, which frightens the delicate elves into a sudden faint and body pile! To makes matters worse for Scott, the baddest female elf from the South Pole (played by Jacquelyn Velvets) shows up and convinces him to have some fun with the sleeping do-gooders. Easily swayed, Scott agrees…and the two torment the elves via hypnosis and sleepy countdown and KO! Santa suddenly shows up, however, and Jacquelyn uses her magic elf dust to make herself AND the other elves disappear!

An angry Santa berates the confused Scott and gives him one last chance to finish his job. Jacquelyn playfully appears with the elves (stacked in a different pile) and convinces him to have MORE fun. This time they force the elves to choke themselves out with a Christmas ribbon, followed by several KO blows via candy canes…but they soon hear Santa's sleigh re-approaching. Jacquelyn disappears again but leaves the elves behind, leading to a hilarious scene where Scott poses the sleeping elves (after a slew of OTS carries) in different "work" positions around the room. They start to come to and Scott quickly knocks them out with his cane, holding two of them in a standing position as Santa shows up. Scott struggles to keep the sleeping elves up and looking active as he explains himself to Santa, who surprisingly seems to believe Scott's ruse. He issues another warning and leaves as Scott breathes a sigh of relief…moments before Jacquelyn gleefully reappears. Scott begs Jacquelyn for help and she agrees, having only enough magic dust for a final teleportation. They pile the sleeping elves up as they ponder the night's events. Realizing that they effectively tricked Santa, the two devious elves laugh hysterically…until a familiar "Ho Ho Ho" rings through the air. Santa appears behind them, catching them in the act! Scott is fired from his job, demoted, and kicked out of the room…while Jacquelyn's name goes to the top of the naughty list (a punishment she seems to secretly enjoy). The other elves are woken up by Santa's booming voice and forced to assume a familiar position by the couch.

One by one each elf is knocked out cold by Santa's paddle, leaving a row of beautiful elf derrieres resting side by side and through the night as Santa leaves in time to finish his Christmas duties!

This movie contains multi girl fainting KO, multi girl hypnosis KO, multi girl ribbon choke KO, candy cane bonk KOs, spank KOs, body piles, over the shoulder carries, two person carry, rag dolling, limp limb manipulation.
Purchase this video at Velvets Fantasies
---
Bring In The Fembots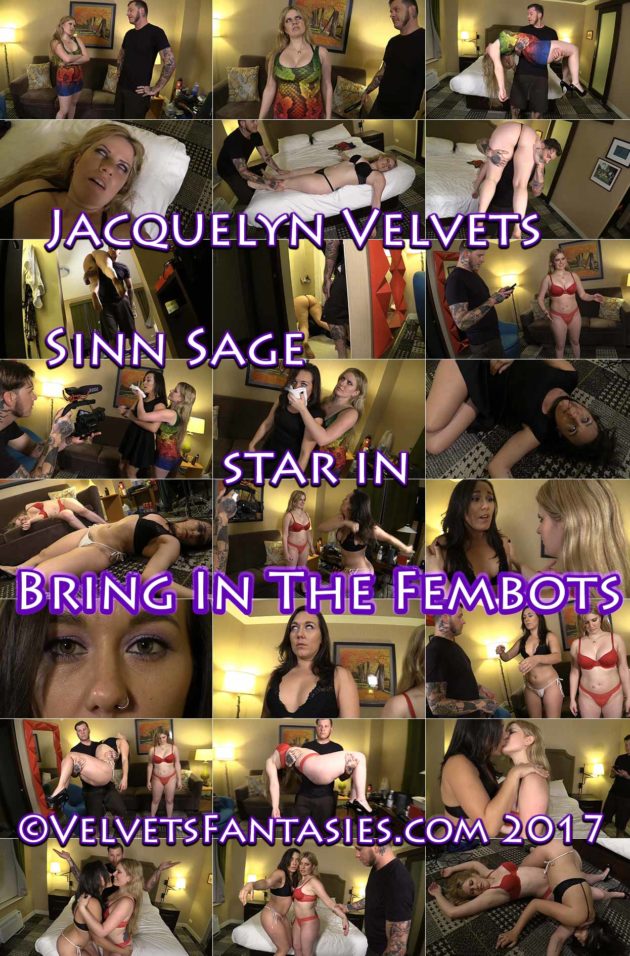 Starring Jacquelyn Velvets, Sinn Sage, and Drake Man O'War

Based on a custom script! We fade in on producer Drake as he prepares a shoot with THE Jacquelyn Velvets! Turns out, however, that Miss Velvets is quite the diva, and within seconds Drake has had enough. He dispatches her with a blow from his trusty blackjack and decides to replace her with a doppelgänger fembot he's been working on. Minutes later, Velvets' co-star Sinn Sage shows up and starts running some scenes with the fembot version of her friend Jacquelyn. Sinn throws a staged punch at Velvets' face but the fembot doesn't react. Sinn quickly realizes there's something amiss, remembering the stories she heard about a secret society looking to replace famous fetish models with fembots. Before she can run away, fembot Velvets grabs Sinn and slowly hypnotizes her into a brand NEW fembot, all while Drake watches…a smile on his face. He proceeds to have some fun as he films his two new bots, playing several freeze/KO games with the two beautiful models as we slowly pan and see the REAL Miss Velvets, completely hypnotized in the corner, successfully transformed into yet another fembot…one that's eager to join in!

This movie contains blackjack KO, syringe KO, neck chop KO, chloroform/electrocution KO, neck chop KO with freeze command, fembot command shut down/sleep mode, fembot malfunction KO, sleep command KO, freeze commands, posing, cradle carries, over the shoulder carries
Purchase this video at Velvets Fantasies