3 New Videos from Sleeperkid
Sleeperkid has released a batch of new video, including the superheroine-themed A Double Dose of Heroine, Pajama KO Party 2, and The Snowflake Chronicles Volume Four.
Pajama KO Party 2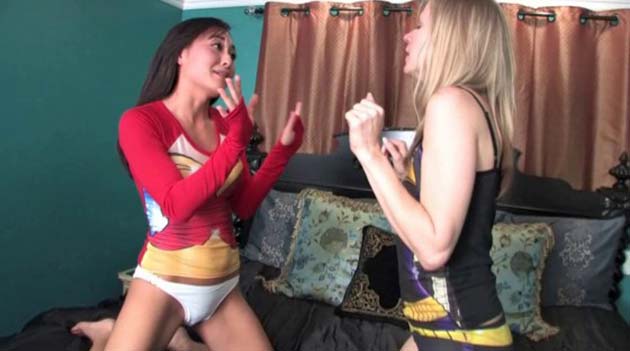 Bored after a day of saving civilians, Bat-Serena and Wonder-Sumiko (decked out in adorable two piece heroine pajamas) decide to have a friendly KO match after watching some SKW vids (the two are huge fans, it turns out)! Serena starts the battle off with a quick punch to Sumiko's jaw that knocks her right out! Serena follows up with a reverse bearhug but Sumiko reverses with a bearhug, trapping Serena in a sweet sleeper hold that sends her to Dreamland!

Both girls are out cold after a hard fought battle but Serena wakens first. She goes for her final KO, smothering Sumiko's mouth and nose with a chloroform-soaked cloth. Sumiko struggles and manages to wrap her lasso around Serena's wrist. Sumiko pulls the cloth away from her mouth and smiles, using the suggestive powers of her lasso as she speaks.

"After I pass out you're going to sleep for a long time…" she says, and then proceeds to push the rag BACK into her own face for a self chloro KO! Serena screams "NO!!" but it's too late. The rope's hypnotic effects kick in as Sumiko falls asleep. Her eyes flutter as she slowly fades, collapsing next to her slumber party pal…and everything fades to black.
Purchase this video at SKWPPV.com
---
The Snowflake Chronicles 4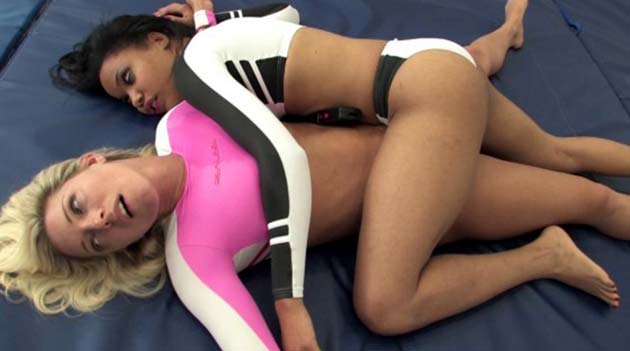 We fade in on Snowflake Agency trainees Niki Lee Young and Monica Jade as they finish a long set of crunches during a workout session. Private Young suggests a KO sparring contest in order to beef up their skills and Private Jade agrees. The two face off but Niki gets the advantage, landing some belly blows and a standing sleeper hold that slowly knocks the eyerolling Monica OUT. Niki continues to dominate via neck pinch KO, reverse neck scissors KO, belly punches, a belly punch jab that sends spit flying out of Jade's lips (with a derri "air" KO), a head stomp KO, and a chloroform KO attack that backfires when Monica pulls her in for a chloro "kiss" that leaves both girls out on the mats!

We see Monica start to come to a few minutes later. She regains her strength and goes on the attack, nailing a brutal set of belly splash attacks that knock Niki out. She dominates via: a blackjack strike KO set (with a derri "air" KO), front neckscissors/punchout combo KO, syringe attack KO, rope choke with tongue protrusion, standing sleeper KO, multiple stomps to the skull, a tazer / drooling KO, and a follow up tazer attack that Niki turns into a double KO when she pulls Monica on top of her! The two get shocked into unconsciousness and lay there, convulsing…

Moments later we see Niki Lee come to and take control. She decides to end it all with a giant brick…nailing Monica multiple times on the skull! She kneels next to her KO'ed opponent and proceeds to faint on top of her, leaving another body pile on the mats! Monica slowly awakens and makes it over to her trusty tranq gun. She hoists Niki against the wall and fires multiple tranq pellets into Niki's belly, slowly weakening her. Monica takes aim and finisher with three shots to the chest, following with multiple post KO shots to make sure. Smiling, Monica goes to leave…but her exhaustion catches up with her and she collapses next to her partner…as the camera fades to black.
Purchase this video at SKWPPV.com
---
A Double Dose of Heroine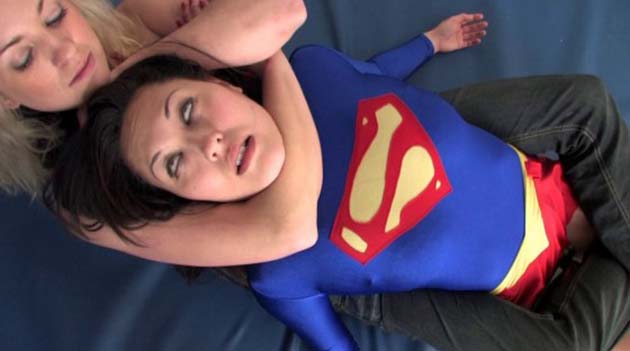 Clip one: "Super-Serena's Custom"

We fade in on the lovely Super-Serena, who's agreed to a special custom request from an SKW fan! SK provides a list of requests for the superheroine, including a few queries about her attire, including closeups of her tights, cape, etc. She is asked to discuss her nemesis and her defeats at the hands of baddies like Sapphire and others. She describes her weaknesses, including kryptonite and other methods. Right when she mentions a special form of kryptonite gas, we see the camera pan over to some nearby vents. Unbeknownst to the heroine, the very gas she's discussing is slowly pouring into the room! Serena shows off her physique as SK films some lovely close ups. SK asks Serena to perform some exercises, including squats, push-ups, and more…all while Supergirl starts to feel the gas' effects. SK fires some bullets at her and they bounce off…but Serena seems to feel them a bit more than she's used to. He asks her to remove her cape and do some crunches, which Serena accomplishes with a bit of effort. SK asks her to perform a final pose. The gas finally catches up to the heroine as her eyes start to roll and flutter. She collapses, completely out cold as SK pans over her defeated body. The whole thing was a trap!! SK checks her limbs, making sure she's completely asleep as the camera slowly fades to black!

Clip two: "SUPER-SUMIKO vs KERI"

We fade in on thief Keri robbing Super-Sumiko's house…only to get caught red handed. Keri seems cocky as she confronts the heroine, but Sumiko quickly traps her in a killer sleeper hold! Keri slowly fades and passes out as a smiling Super-Sumiko releases her. She picks Keri up for further punishment but the blonde baddie attacks with some kryptonite-laced chloroform! Sumiko struggles but fades away as the chloro does its job. Keri removes Sumiko's cape as she starts to come to and angers the heroine, who shoves Keri to the ground. Sumiko is still weak, however, and Keri presses the advantage, weakening her with a blast of sleepy spray. Sumiko tries to crawl away but Keri smothers her out with her own cape!

Confident, Keri grabs her blackjack as Sumiko slowly wakes up. She slams the baton into Sumiko's skull but there's zero effect! The chloroform is wearing off…and Sumiko's pissed. She snatches the blackjack away and knocks Keri out with a single blow. Sumiko grabs Keri and puts her into a brutal bearhug, but Keri manages to grab the chloroform-laced cloth. She attacks, smothering Sumiko's mouth and nose until the heroine slowly succumbs…eyes rolling on top of Keri until sleep finally claims her. Keri grabs a shard of kryptonite hidden in a lead container and grazes Sumiko's body with it as the heroine groans in pain. Keri attacks with a reverse bearhug that slowly knocks Super-Sumiko out. She playfully lifts Sumiko into a cradle carry and places her on the ground, waking her up with some more kryptonite torture. She traps the heroine in a brutal sleeper hold/body scissors combo, knocking her out yet again! With the aid of her kryptonite, Keri knocks Sumi out yet again with a single karate chop strike to the neck.

Satisfied, Keri finishes Sumiko off with a krypto-drug-laced face mask that sends Sumiko into a deep sleep. She turns the unconscious heroine over and ties her up before carrying her over her shoulder. The villain grins as she leaves the room with her sleepy prize!!!
Purchase this video at SKWPPV.com