3 New Videos from Pro Style Fantasies and Catfight Fantasies
From Alex Bettinger: "THREE new videos out today! And a special deal just for HeroineMovies readers: all three videos (over an HOUR of intense action) for just $40! Email me at slayerparisproductions [[at]] yahoo [[dot]] com for info!"
B.L.O.W., the Beautiful Ladies of Wrestling from Pro Style Fantasies
First up, we have our fun GLOW parody, B.L.O.W., the Beautiful Ladies of Wrestling! That's right, it's fun sexy brutal women's wrestling, 80s style! Complete with cheesy rapping, awkward video inserts, and a brutal Soviet heel up against a fun-loving American sexy face in a bikini!

Included in this HOT and exciting video:

Wrestling, brawling, lots of low blows, belly punches, flying splashes, spanking, wedgies, breast groping, sexual humiliation, rag doll, ass-to-face, breast-to-face, camel clutch, clothesline, head slams, bronco buster, humiliation in front of crowd, sleeper hold, half boston crab (combined with crotch groping), stripping, strapon ravishing in mouth and from behind (softcore), and much more!!!

Starring Angela Sommers and Karlie Montana!

32 minutes! Only $25!
Purchase this video at Pro Style Fantasies
---
Dreams of Destruction from Catfight Fantasies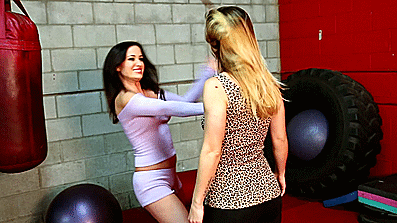 Second, we have a HOT double-feature over at CatfightFantasies.com, a sensual video and a brutal one! First we have "Dreams of Destruction," starring Karlie Montana and Angela Sommers. Karlie keeps fantasizing that Angela will beat her up and dominate her, both physically and sexually! One night at the gym her dream seems to come true! Lots of low blows, spanking, belly and face punches, bitch slapping, stripping, and strapon ravishing!
Purchase this video at Catfight Fantasies
---
Beaten by the Bikers from Catfight Fantasies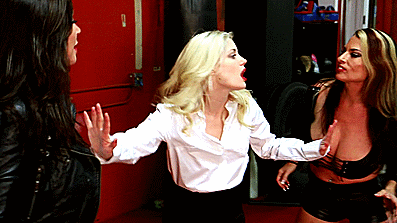 Then we have "Beaten by the Bikers," starring Charlotte Stokely, Goldie Blair, and Christina Carter. Charlotte is a beautiful but hapless secretary who gets accosted by two tough biker chicks, who proceed to PULVERIZE the little blonde with tons of face punches, belly punches, kicks and stomps, breast smothers, stripping, and more! Poor Charlotte is left bloodied!

Get BOTH catfight videos, over a half-hour of action, for just $24.95!
Purchase this video at Catfight Fantasies
---
OR GET ALL THREE VIDEOS, over an hour of action, for the special discounted rate of $40! Email me if you want to take advantage of this discount and I'll send you the info!
Check out all the free trailers and gifs!