Anastasia Pierce's "Frozen Bat: Batgirl in Peril"
Anastasia Pierce has released a new video called Frozen Bat: Batgirl in Peril, which introduces something called "Arouse-o-form" to the Batgirl mythos. Check out the details below.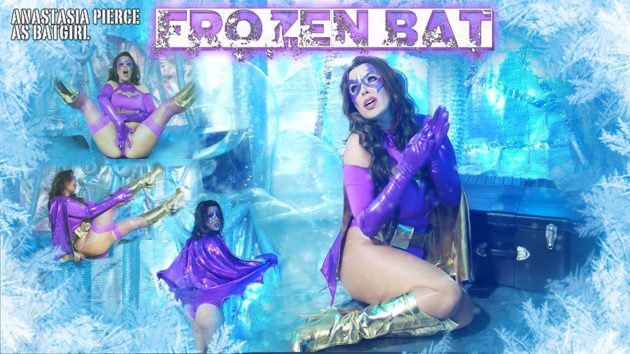 FROZEN BAT, Batgirl in Peril (No Nudity)

** SPOILER ALLERT!! DON'T READ if you want to be SUPRISED **

Synopsis: Batgirl is alone at the BatCave. She receives a phone call. It's Batman and Robin!
They will be gone all night on a special mission. She is thrilled. It's the first time they leave her alone and in charge! She feels proud and excited at the same time. She is ready and has already set on the security system. This way she will get alarmed if anyone tries to break in.

Now that she is all alone in the lab, she wants to try something out .. She has been keeping her eye for one of Batman's "tool" the "AROUSE-O-FORM" an invention to make any villain loose control and get overwhelmed by erotic feelings.
She has been dying to try it.. Just a little gulp and it's in her system.

At first she does not notice the effects but slowly, the "AROUSE-O-FORM" is taking effect.
But soon, she will be playing with her very sexy purple vintage stockings on top of her shiny nude pantyhose. Rubbing those curves and teasing herself…

But just as things get very very enjoyable for Batgirl… The Freeze System kicks in!
It's part of the security system and now: SHE IS TRAPPED!! The Temperature is dropping FAST!

Includes: Batgirl, Batcave, Lab, "AROUSE-O-FORM" , Shiny Pantyhose, Purple Vintage Stockings, Foot fetish, Tease, Masturbation, Sexual Games, Orgasm, Frozen, Trapped, Peril, NO ESCAPE, Doom

THANK YOU !!!
Purchase this video at AnastasiaClips.com