"Asset Eliminated 4" by Femme Fatale Fight Club
Check out our latest release: ASSET ELIMINATED 4.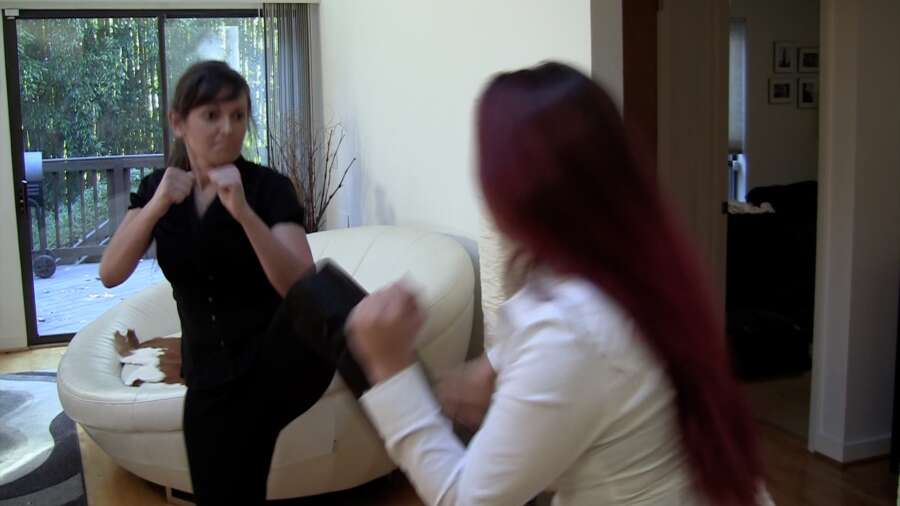 Devon D'Amo, an assassin hired by the Company, peers in through the window of Agent Chanel Yeoung's house. Oblivious to the danger outside, Chanel leaves the room, allowing Devon to slip inside. When Chanel comes back in Devon reveals that she's been sent by the Company to eliminate her.
Chanel arrogantly scoffs that Devon is no match for her and they square up to fight. It looks as if Chanel is right. She easily blocks all Devon 's attacks, then punishes her with a pair of hooks, a belly punch and an uppercut.
Chanel takes Devon by the hair and drags her over to the wall, then brings her leg up to a kicking position and presses her heel into Devon's neck, cutting off the blood to her brain till she loses consciousness. Chanel squats down and moves Devon's arms and head around, amused by her limp helplessness, but suddenly Devon's eyes snap open and she kicks up, catching Chanel's head. Chanel topples over, stunned.
Now Devon has the upper hand. She squats down and presses her fingers into a nerve at the base of Chanel's neck, causing her to lose control of her body and finally knocking her out. Devon gets to move Chanel's limp body around, but she soon tires of this and wakes her up, then punishes her with a series of belly punches, finishing up with an extended belly claw.
But Devon hasn't finished with Chanel yet. She grabs Chanel by her hair and drags her to her feet, then delivers further punishment via a knee to the belly and a series of hooks and uppercuts. With Chanel out on her feet and defenceless, Devon calmly walks behind her, slips a garrotte around her neck and chokes her out.
Devon amuses herself by playing with Chanel's limp body, then leaves.
Includes the following:
• Punches/blocks
• Kicks/blocks
• Hooks
• Uppercuts
• Belly punches
• Belly claw
• Knee to belly
• KO by foot press to neck
• Kick to head
• Hair pulling
• KO by nerve press to neck
• Twitching/convulsing
• Long choke-out with garrotte
• Rolling eyes
• Eye flutter
• Limp body