"BAD MEDICINE" – a Luciafilms Original Film

When Supra-girl (Xiphos Prince) accepts the offer of a research lab to undergo an examination in return for a charitable donation to a cause, she finds herself in the crosshairs of a disturbed scientist (Lu-Lewd) with an ulterior motive and a deadly backer. The exam quickly turns questionable, and just when Supra-girl's patience runs out, a terrible secret is uncovered that escalates the situation dramatically.

Will Supra-girl meet her match in this power obsessed scientist? Will she escape before the mysterious benefactor arrives?

Find out in our first !!HARDCORE!! S.H.I.P. film ever! Bad Medicine.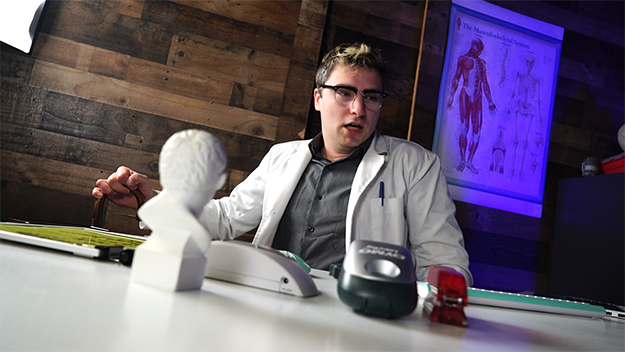 CONTENT
———————————-
-HARDCORE FILM!!!
-Hour runtime!
-Innocent, hopeful heroine
-Medical peril
-Vulnerability
-Nylons
-Krystonite depowerment
-Costume removal
-Bearhug
-Choking/Strangling
-Gassing/asphyxiation
-Force feeding liquid
-Lots of upskirts
-Incredible pussy punches!
-Bondage
-Electrocution
-Fingering
-Unyieldingly sympathetic heroine
-Explicit Nudity
-Groping
-Messy creampie
-Forced orgasm
-Forced oral
-Hardcore sex in various positions
-Rough Sex
-Rough Kissing
-Potential kidnapping
---
NEWS: Boy have we just tons of content on the horizon! We're doing our level best to provide as many cool things around the corner as we can, and thank you for your continued support along the way.

We remain sorry for our e-mail situation, it has died again, though we've managed to get a workaround to answer them in the interim. Our provider and google are having a slap fight and we're on the losing end of it! Please do send us your mail, we'll answer it soon as we can, sorry for any that got lost along the way.

Upcoming Releases in no particular order:
-A fanged film with Mckenzie!
-A brutal BDSM film focused on a renegade Captain Marvelous! (Actual impacts!)
-A superheroine film set gone very, very wrong. (Or right!)
-A sequel to Pretty Bird, where Huntress (Ariana Rogue) goes looking for the missing Blue Canary
-A currently scriptless film with an all new (and beautiful) talent!
-More we're not ready to accounted yet!
Buy this film and many others at-
https://www.shg-media.com/DisplayStore.aspx?SellerID=lucia