Batlass Double Feature from Sleepy Superheroines
"Growing Pains"
A new heroine has taken on the mantle of Batlass. She breaks into Trickster's lair and wants to make him pay for the humiliation he caused the last Batlass. Unfortunately, for our plucky heroine, while she has plenty of spunk, she doesn't have the experience to defeat the Trickster who defeats and humiliates heroines for a living. Our novice superheroine is captured easily by the fiend and subjected to a variety of knockouts. Also includes an alternate scene.
This video features a male/female fighting, multiple chloroform KOs, electric KO, over the shoulder carries, cradle carry, butt spanking, ragdolling, bondage, and limp play.
"Back to School"
In the second feature, Batlass is sent back to crime fighting school after her humiliating defeat at the hands of the Trickster. Little does she know that the teacher masquerading as the Trickster is really the Trickster. He decides to use real tranquilizer darts and sleeping gas to subdue the rookie heroine. Batlass eventually becomes aware that the teacher is really the Trickster and tries to get the upper hand. Will she succeed? Find out in the first ever double feature from Sleepy Superherones
This video features a male/female fighting, chloroform KO, Tranquilizer Dart KO, multiple sleep gas KOs, over the shoulder carries, butt spanking, ragdolling, and limp play.
Available Now/Watch Trailer: https://sleepysuperheroines.com/batlass-double-feature/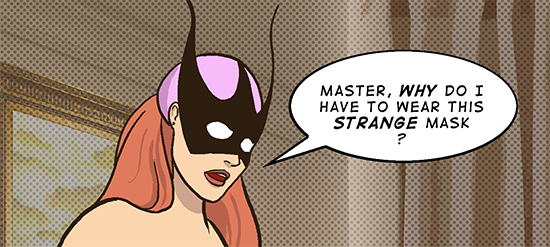 Special until August 31, 2020: Don't miss page three of the Web Woman Comic when you purchase this video by August 31.  Web Woman was an obscure superheroine from Filmation in the seventies.  This is my take on the episode where she's captured and brainwashed into being the villain's maid.  As our story continues, Doc has made Web Woman his maid and now it's time to have some fun with her.
Thank you for your continued support and stay safe everyone!