"Clone Assassins" and "Stolen Drive 6" from Femme Fatale Fight Club
Check out out latest release: CLONE ASSASSINS.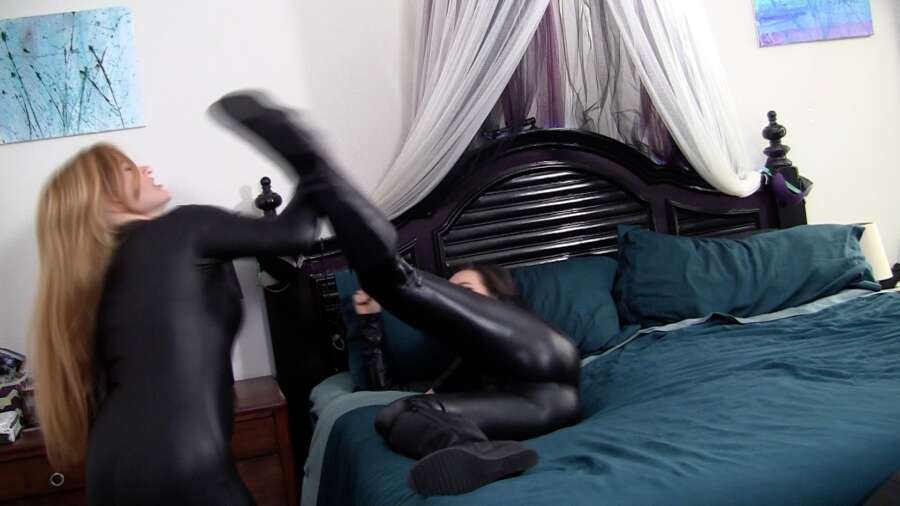 BASED ON A CUSTOM SCRIPT
Six separate battles!
Now featuring low blows!
Top assassin Jacquelyn Velvets has been given the contract to eliminate deadly rival Sinn Sage and breaks into her house to complete the job. She finds Sinn asleep and sneaks up on her, but Sinn wakes up in time and manages to deflect her attacks, kicking up at her from the bed.
Sinn jumps up and Jacquelyn jabs at her, but Sinn blocks it and comes back with a hook. Jacquelyn tries a hook of her own, but Sinn blocks again and hits her with a second hook, stunning her and leaving her open to another hook and an uppercut. Sinn asks who sent her but Jacquelyn refuses to say. Sinn then punishes her with a series of hooks that send her to her knees. Sinn drags her up by her hair and continues the beatdown till Jacquelyn is barely conscious, then pulls her back on to the bed and chokes her out with a sleeper hold.
Sinn checks and plays with Jacquelyn's limp body for a while, then gets off the bed – and Jacquelyn's body disappears! Sinn goes into the kitchen to check the rear door and finds… another Jacquelyn waiting to ambush her! Now she realizes: they're clones.
Jacquelyn 2 attacks with a hook, but Sinn blocks and kicks her in the belly, winding her. Sinn continues the punishment with a series of belly punches, followed by kicks to the crotch, causing Jacquelyn to collapse to the floor. But Sinn isn't finished with her. She squats down and delivers a long series of hammer fists to Jacquelyn's belly, followed by a cruel belly claw, then moves behind her and puts her to sleep with a figure-4 hold. Once again, Sinn checks the body and once again it disappears after a few seconds.
Sinn returns to the living room… to find two new Jacquelyns waiting for her! Jacquelyn 3 rushes at her and Sinn only just blocks her in time then KOs her with three devastating punches. Jacquelyn collapses and disappears.
Jacquelyn 4 also rushes in, this time kicking at Sinn's belly and following with a hook. Sinn blocks both and counters with a chop to the throat. Jacquelyn collapses, choking and clutching her throat, then succumbs to her injury and disappears.
Sinn manages to grab a fifth Jacquelyn before she can attack and knees her in the belly before pounding her with a series of hooks, uppercuts and belly punches, followed by a kick to the crotch, then finishes up with a chop down to the back of the neck. Another clone collapses and disappears.
Finally, a sixth Jacquelyn appears and walks towards her. Sinn thinks it's another clone but in fact it's the original – and she's pissed that Sinn has just destroyed all her clones. Sinn manages to block her first punch, but not the next one which leaves her stunned, or the two that follow. Jacquelyn thinks Sinn is out on her feet and prepares to deliver a killing blow, but Sinn catches it in her palm. Astonished, Jacquelyn asks how Sinn beat them all, but Sinn's reply is just more punishment. Jacquelyn drops to her knees and Sinn easily pushes her over with her foot.
Now Sinn straddles the defenceless Jacquelyn, takes out a rope and slowly chokes her to oblivion. This time Jacquelyn's body doesn't disappear. Sinn looks down at her enemy, savouring her victory, then walks off.
Includes the following:
• Punches/blocks
• Kicks/blocks
• Hooks
• Uppercuts
• Belly punches
• Low blows
• Belly claw
• Hair pulling
• KO from punches
• Throat chop KO
• KO from chop to back of neck
• Sleeper hold KO
• Figure 4 KO
• Long choke-out with garrotte
• Rolling eyes
• Eye flutter
• Limp body
Previous release: STOLEN DRIVE 6.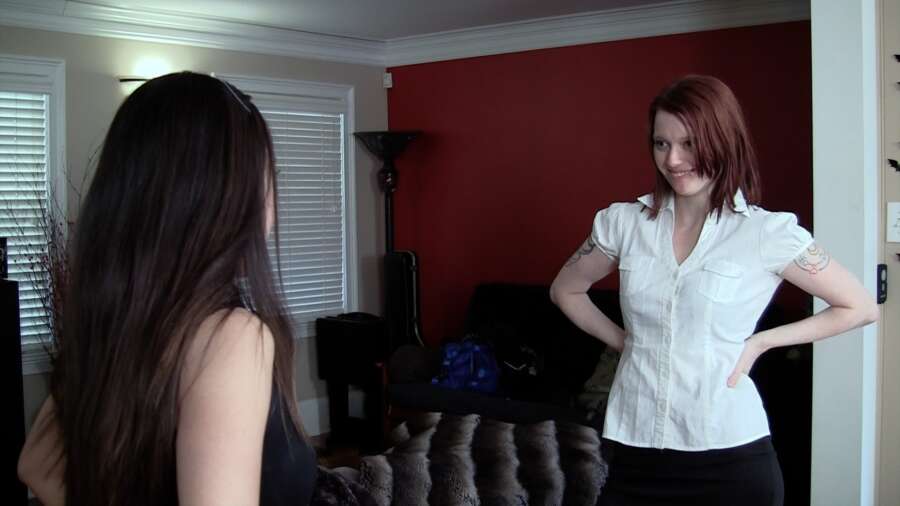 Sumiko is a former Agent who has gone rogue and is now selling classified information to the highest bidder. She breaks into Agent Merry Meow's house to steal a thumb drive containing sensitive files. Finding Merry's study, she begins to rifle through the drawers, but Merry appears in the doorway and holds up the drive, challenging Sumiko to try and take it.
Sumiko attacks first but Merry easily blocks her punches and tells her she's looking forward to humiliating her. Sumiko tries again and is rewarded by a devastating series of hooks, belly punches and uppercuts that leave her stunned on her feet. Merry then steps behind her and sends her to sleep with a chloroformed pad.
Merry calls her case officer to report the attack and is ordered to find out who sent Sumiko. She wakes Sumiko and drags her up by her hair, then subjects her to a series of belly punches and an extended belly claw. Still Sumiko refuses to talk, so she puts her in a sleeper hold and forces her to lose consciousness again.
Merry gets a call from her case officer and tells him she's still working on Sumiko. But while she's talking Sumiko wakes up and sneaks up behind her. When she turns round she's only just able to block an initial hook, but not the next one, followed by an uppercut and belly punches that send Merry to her knees. Sumiko pushes over the defenceless Merry with her foot, takes out a rope and slowly chokes her out.
Savouring her triumph, she plays with Merry's limp body, then rolls her over and takes the drive she came for.
Includes the following:
• Punches/blocks
• Hooks
• Uppercuts
• Belly punches
• Belly claw
• Hair pulling
• Sleeper hold
• Chloroform
• Long choke-out with rope
• Rolling eyes
• Eye flutter
• Limp body