Discover movies from Heroine Power store!
Heroine Power is the ultimate destination for all superheroine lovers!
Store boasts an incredible variety of superhero content catering to a wide range of tastes. Whether you love classic heroines or are exploring new, unique characters, you're sure to find videos that suit your interests. You will absolutely enjoy amazing performance by sexy Heroines, intricately designed costumes and exciting storylines. The scripts are inventive and often weave exciting storylines into superhero narratives.
Visit Heroine Power and enjoy watching incredebly sexy superheroines fighting the crime!
HEROINE POWER PRESENTS #13 – BLACK WONDER WOMAN "BACK IN DA HIZOUSE!!!"
Click here to watch the full video on clips4sale.
Starring Reagan Kennedy & Enchantress Sahrye.
Video features Bear Hugs, 2-on-1 Fighting,Face Punches, Low Blows, Stomach Punches Back Breakers, Over the Shoulder Carry, Female Domination, De-Booting, Face Sitting, Dry Humping, Hitachi Magic Wand, Begrudged Orgasms
Lenght: 25 min, Price: $25.99
From the producer
HEROINE POWER PRESENTS #13 brings you the lovely ebony fetish model Reagan Kennedy returning as Black Wonder Woman. This time Black Wonder Woman has more than she can handle when she's up against the villainous Red Queen, a notorious sex slave master, played by the one and only Enchantress Sahrye. Red Queen is prepared for an encounter with the black super heroine along with her enforcer, a powerful gorilla named Gargauntua, trained with an intense hatred for Black Wonder Woman. A showdown with the Red Queen and her pet gorilla does not turn out well for Black Wonder Woman as she is over powered by Gargauntua with bear hugs and beaten mercilessly by the evil villainess with face punches and low blows. Finally Black Wonder Woman is broken by a series of back breakers from the mighty gorilla before being carried away. Later, inside of the Red Queen's hideout, Black Wonder Woman has been placed on a bed where she learns of the villainess sinister plans to sell her into sex slavery. However, before the super heroine soul step-sister is to be sent away, Red Queen explains why she is known as one of the best in the business by putting Black Wonder Woman through an intense exercise of female domination with face sitting and begrudged orgasms from a hitachi magic wand. What Perils Lie Ahead? Find Out!
WONDER SAHRYE MARAVILLA vs VAMPIRA NEGRA 'I'm Gonna Git You Sucka"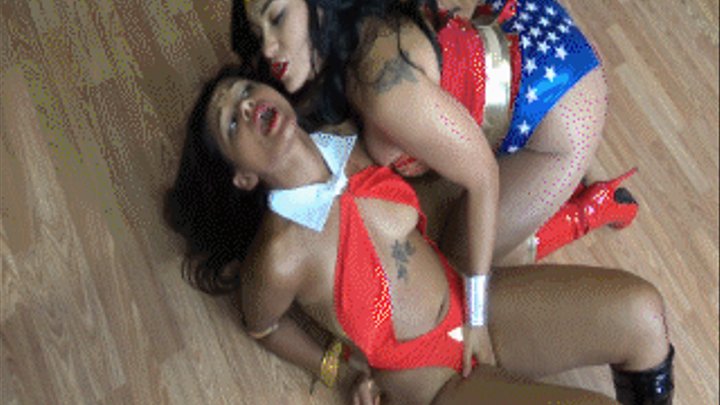 Click here to watch the full video on clips4sale.
Enchantress Sahrye returns as SAHRYE MARAVILLA to fight for good and this time she's looking spectacular with a season two costume up against the evil spirit of the Vampira Negra played by Calisa Bliss in "I'M GONNA GIT YOU SUCKER!"
An ancient medallion has been discovered by Doctor Bliss and its completely captured her attention. Agent Sahrye has been called on for information about the artifact and immediately recognizes that this is no ordinary medallion. Sahrye warns the doctor to put it down but the warning is too late as Sahrye watches Doctor Bliss transform into a sexy scantily clad VAMPIRA NEGRA! Sahrye knows there is only one way to deal with this kind of evil and she quickly runs off to change into her secret identity of SAHRYE MARAVILLA. Vampira Negra is looking to feast and delighted to find the powerful super heroine. Sahrye is placed into a mind controlled trance by the vampire who begins to suck on those thick Puerto Rican breasts and thighs. Vampira Negra sinks her fangs into the juicy buttocks of Sahrye Maravilla and finds her source of power but is repelled. Sahrye snaps out of her trance and doesn't hold back unleashing a fury of punishment on the vampire from face punches to crushing bear hugs to pounding low blows. Vampira Negra begs for mercy as she is unsure from the vicious beating if Sahrye Maravilla is really a super heroine. Sahrye uses her golden lasso to tie up the vampire and then uses an Amazon technique to weaken the spell Vampire Negra has over Doctor Bliss from a pleasurable orgasm. Doctor Bliss climaxes and returns back to herself not understanding why she has been tied up by Sahrye Maravilla. The danger appears to be over … or is there more peril ahead as Doctor Bliss suddenly vanishes and then Sahrye Maravilla also disappears.
Lenght: 30 min, Price: $30.99
HEROINE POWER PRESENTS #9 "MASQUERADE"
Click here to watch the full video on clips4sale.
HEROINE POWER PRESENTS #9 starring Cadence Lux as the Star Spangled Super Heroine searching for her missing fellow crime fighter. The trail leads her to the lair of the notorious crime lord, Black Mask.
The villain strikes first by imprisoning Cadence in an energy field and punishing her with powerful electrifying shocks that brings the super heroine down to her knees. Black Mask releases Cadence and challenges her to a fight. Cadence holds her own against the super criminal but still receives a merciless beating struck with devastating face punches and stomach punches. Black Mask gladly shares how he gets his real kicks and begins to grope on her perky tender breasts and warm delicate crotch area of the weakened super heroine. Cadence attempts at fighting off the villain only leads to another round of beatings followed by more intense groping. Black Mask reveals that he has even more planned.
Lenght: 17 min, Price: $17.99