Episodes 8-10 from Heroineburgh
Heroineburgh has released episodes 8-10 of its ongoing series. Check out more information below.
Message from Heroineburgh:
Now available for Spring 2018: Episodes 8-10 from Heroineburgh!
Heroineburgh is a PG-13 live-action superheroine video series based in Pittsburgh, PA. The first season (13 episodes) creates an entirely new universe, revealing the origins of 19 superheroines who gain their powers from a dark-energy meteor which bombards the city. Eventually, they will form a League to battle foes arrayed against them, both within the city limits and across the nation. The superheroines also represent various ethnicities, professions, orientations, subcultures and neighborhoods in Pittsburgh, with many real and recognizable locations used for film shoots. The series has been positively reviewed in several regional publications.
The first ten episodes are now on sale for download at HEROINEBURGH (http://www.heroineburgh.com) in the Video Store.
Price is $7.99 each, and the video average at about 30 minutes each.
Here is the trailer for Episodes 8-10. Short descriptions of the episodes follow below.
---
Episode 8 "The Liquid Engineers" introduces the Chinese heroine X-Machina and the villainess Dysphoria.
Carnegie Mellon mechanical engineer Kimberly Chiang is designing a vehicle that runs on magnetism. Her lab assistant, Maris Solas, feels overworked and underappreciated.
During the night of the meteor, Kim is bombarded with dark energy that not only grants her magnetic powers, but also the ability to instantly fix and repair any machine. As the heroine X-Machina, she feels a compulsion to fix broken machines around campus. But a lab accident with a laser combines with meteoric energy to give Maris the deadly power to decay anything she touches, and the resentful lab tech transforms into the evil Dysphoria, bent on making Kim and her boyfriend Bobby's lives into hell. Can X-Machina use her mechanical genius to figure out how calm Dysphoria down and redirect her powers for the benefit of humanity?
Theme: High-Tech Engineering, Revenge Obsession
Elements: Tight Shiny Costumes, Masked Heroine, Asian Heroine, Vengeful Villainess, Erotic Transformation, Costume Reveal, Magnetic Powers, Disintegration Powers, Female on Female Combat, Knockout, Bondage on Table, Romantic Relationship.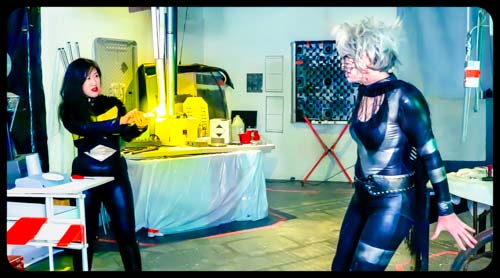 ---
Episode 9 "Big Electric Cat" introduces the African-American heroine Savanna and the villainess Serpenta.
Veterinarian Anna Sauvage is responsible for the health of the large felines at the Pittsburgh Zoo, from which herpetologist Sarah Pentini has just been fired for conducting illicit venom experiments. When the meteor strikes the city, the dark energy imbues Anna with the powers of the big cats, including strength, speed, agility, heightened senses and sharp claws. Meanwhile, Sarah's serum combines with the same energy to transform her into the vengeful Serpenta, possessing the powers of snakes, including hypnosis and a poisonous bite. Sarah goes to work for developer Mason Brick, who is trying to drive out the residents of Homewood so he can buy up their properties. Anna discovers Brick's plan thanks to her mother, and then works with her wise pastor, a relic-hunting professor, and members of her church's youth group to debut as the cat-powered heroine
Savanna in a gorgeous costume. Can Savanna stop Brick and Serpenta, and save her neighborhood in the bargain?
Theme: Neighborhood Gentrification, Animal Powers
Elements: Tight Shiny Costumes, African-American Heroine, Masked Villainess, Erotic Transformation, Super Serum, Power Item, Costume Reveal, Feline Powers, Snake Powers, Female on Female Combat, Knockouts, Mind Control, Hypnosis, Net Bondage, Restraint Bondage.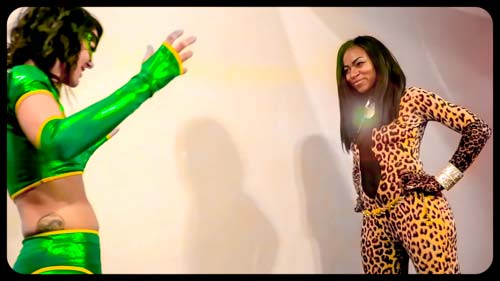 ---
Episode 10 "Reap The Wild Wind" introduces the Middle Eastern heroines Jinniyya and Darbouka, and the villainess Dyna.
Scientific inventors Zaynab El-Bahri – a Lebanese Maronite working at the University of Pittsburgh – and Darsha Bukhari – an Afghan Muslim refugee who just earned her American citizenship – are working together on a project to make windpower viable as an alternative to fossil fuels. Darsha receives a phone call from oil baroness Olivia Queen, offering to buy out the pair's windmill designs. That night during the meteor strike, both Zaynab and Darsha absorb superpowers. Darsha adopts the persona of the greedy Darbouka, wielding massive sonic blasts and stealing her partner's files to sell to Olivia the Quingpin. Zaynab, on the other hand, becomes the virtuous Arabic heroine Jinniyya (the female djinn), with augmented strength and the power of the winds. Can Jinniyya stop Darbouka and turn her to the side of good? And what happens when the Quingpin's mighty henchwoman Dyna challenges them to a battle royale?
Theme: Alternative Energy, Middle-Eastern Culture
Elements: Tight Shiny Costumes, Arabic Heroine, Masked Heroine, Masked Villainess, Erotic Transformation, Bellydance Routine, Costume Reveal, Heroine Turned Evil, Power Item, Costume Reveal, Wind Powers, Sound Powers, Flying Sequences, Super Strength, Female on Female Combat, Knockouts, Mind Control, Hypnosis, Restraint Bondage.
---
Also, below we've got our third comic book graphic by DC Comics Artist Jason Wright (who just finished up his run coloring Green Lantern for Ethan Van Sciver) depicting the heroines from Episodes 6-10. Along with two previous T-shirt designs (depicting the Episode 1-4 heroines and the Episode 5-7 heroines) they are available in Women's S / M and Men's S / M / L / XL by contacting us at info@heroineburgh.com. Get one shirt for $15 or all three for $35.
Here is the third T-shirt design: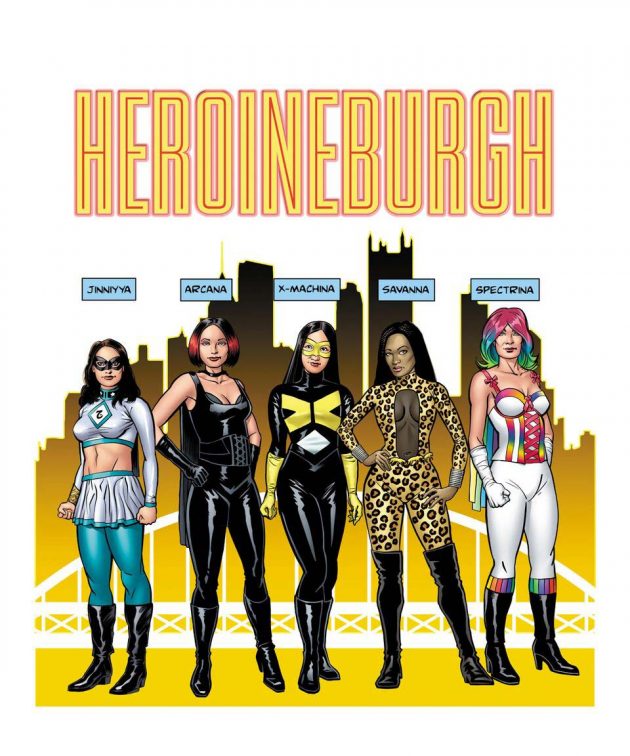 And here are the first two T-shirts: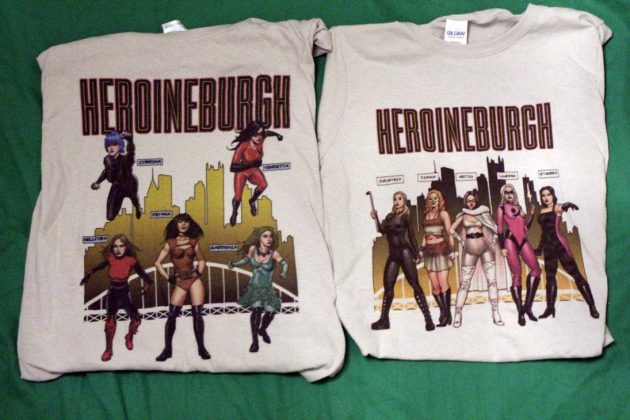 Check out more at Heroineburgh
Read more posts about Heroineburgh