"FearGirl: Elle Max" + Custom Scene Offer from Steve Noir
From Steve Noir: A new FearGirl video, featuring beautiful newcomer "L", and another Custom Scene offer.
FEARGIRL (Cyanna) wakes to find herself with a mysterious new ally, the beautiful young Elite ELLE MAXX ("L"). Elle is just doing what Elle does, looking for trouble, sticking her nose where it doesn't belong, snooping in the Panopticon, seemingly always in danger but somehow protected by her status, her charm, and a little luck.

In this particular outing, Elle will be choked out, chloroformed, stripped, fondled, and drugged, and yet somehow emerge without a scratch.

FearGirl will not be so lucky. She never is.

FEARGIRL: ELLE MAXX features Heavy KO Content; multiple choke-outs, a chloroforming, a pass out, a shock-prod KO, and a final injection in a bare bottom. Also features Heavy Rough Groping, Partial Stripping, and Partial Nudity. 33 min
Purchase this video at SHG-Media
---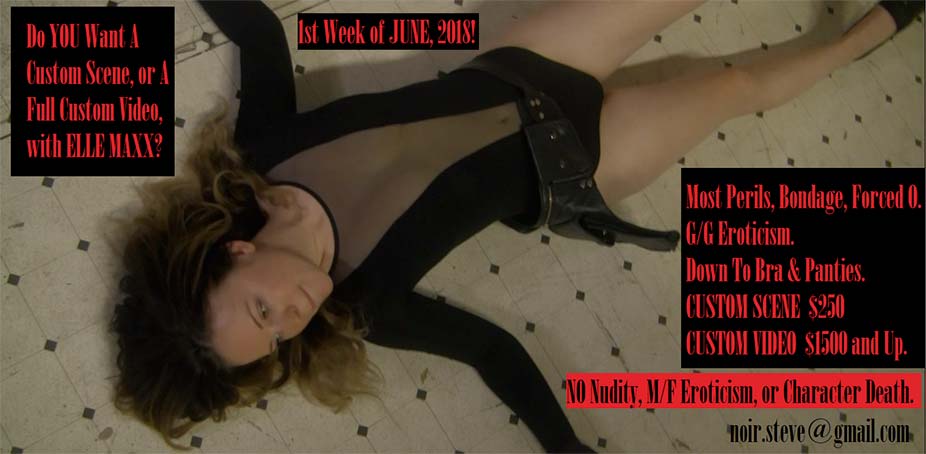 Would you like to commission a Custom Scene, or a complete video, with "L"?
I will be shooting "L" as ELLE MAXX during the FIRST WEEK IN JUNE.
Custom Scenes are $250
Custom Videos start at $1500
Bondage, Beatdown, G/G, Forced O, Most Perils. Down To Bra and Panties.
NO Nudity, M/F erotica, no Character Death.
Message me at noir.steve@gmail.com for more info.