First Look: Wonder Abbie / PREORDER from SHL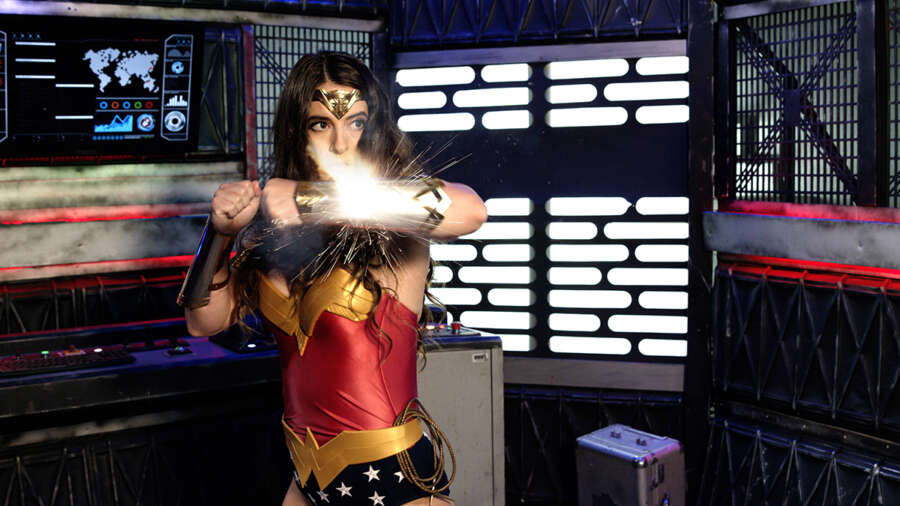 About the film
This was the first film I shot in 2020, the first of 3 I shot back to back with Abbie (I never intended to have Abbie play Supergirl but the actress originally casted tested positive for Covid the day before the shoot), and the first film I made with my more developed set production. I had intended to release this film before everything that has come since 'Supergirl: Brother's Vengeance' but I then ended up working with Alina in December with less than a month of pre-production time and decided that 2 Wonder Woman films back 2 back might not be in my best interest, especially since at that time I'd have over 3 Abbie films in the can and was aiming to acquire 2 Alina films in December. So, Abbie debut as Supergirl, Ashley as Batgirl and then Alina as Wonder Woman which I thought was a nice trilogy of all the 'Holy Trinity' characters we all love and adore.
You might be able to notice some of these details in the costume showcase my original intention of this being the big SHL 2.0 debut. I had the Tiara and Bracelets custom made for Abbie, all from real metal, welded and fitted. The bracelets ultimately didn't get reused in the Alina film cause they proved to be dangerous, scratching one of the actors and slicing open Abbie's hosiery during the shoot. This outfit took time to put together (used the pandemic shutdown to my benefit)! It was expensive! And since it was originally suppose to launch SHL 2.0 maybe it is fitting that it ends this season of SHL films. (Not that SHL is ending, but I do want to set my personal bar higher for all upcoming productions)
I know releasing 2 films in a month might be a big ask financially especially during Christmas but… I wanted to clean the coffers and focus 2022 on switching things up a little bit. I feel I have grown a lot as a filmmaker over the last couple years and wanted to push those boundaries this coming year. There comes a risk with unreleased material: the more you grow in your craft the more the unreleased material can start to feel 'left behind', like 'Supergirl: Theraphy' might have felt against the releases of 2021 . Getting this film OUT NOW in 2021 keeps it in tone with what you have seen me release this year… next year it might not sit well shoulder to shoulder with my upcoming films.
As always if you Preorder the film you will receive a discount – $50 Preorder Pricing + BTS content / Release Date pricing will be $60
But I do need to state a couple things about the film to avoid anyone having buyers remorse:
I may not be able to release the film before NYE, I will try like hell too, BUT I am human and reserve the right to NOT manage this task in a timely manner. If thats an issue… please don't buy this preorder. The edit is coming together nicely, but I will always be = Quality Edit > a fast edit.
The male actors in this film are Nathan Bronson (I know some of you are a bit spent on him, upcoming films next year I will be switching things up) and Codey Steele
The action scene comes to an end when Wonder Woman gets tied up with her own lasso
Wonder Woman gets dosed with gas
Lose ending
Hosiery throughout film
No clue on runtime as I am editing the film still
Boots come off – one during fight and the other at the beginning of the main sex scene
There are instructions feed to Wonder Woman via the lasso, but its done minimally from what I can remember
Thank you again for supporting me and my films, as long as you keep buying them I will keep trying to push the bar higher and higher until it financially ruins me.
Happy Holidays
<3 Damien Woods