"Harley's Trap" from Sleeperkid
Keri Spectrum, Tracy Jordan, and Kayla Lael star in Harley's Trap from Sleeperkid. Apparently, the legendary George Perez had a hand in co-writing this one, so it might just be worth checking out!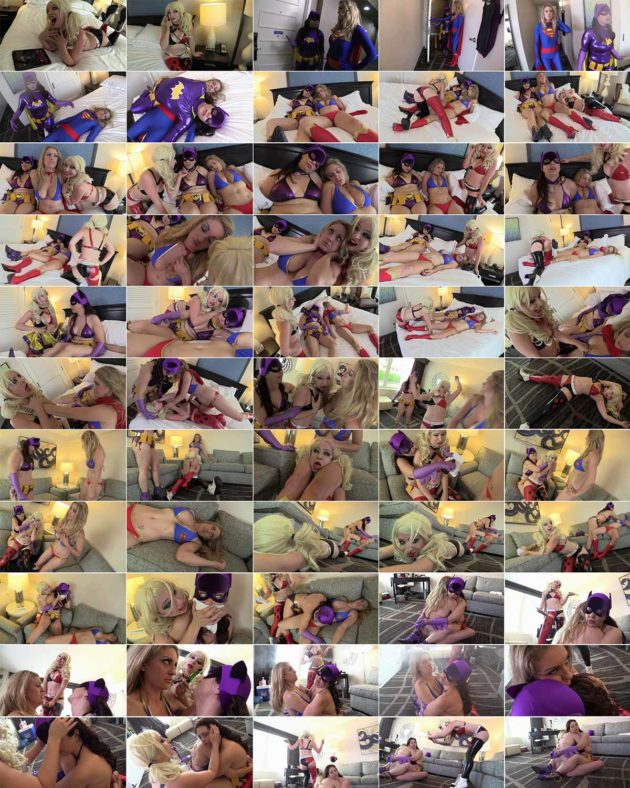 THE JOKER IS IN PRISON.

We fade in on the clown prince of crime's lady friend…the beautiful and certifiably insane Harley Quinn (played amazingly by Kayla Lael), who has a female citizen tied up and gagged in a closet. We hear the girl groaning as Harley looks at a photo of her beloved Joker. His location is unknown…and she plans on changing that! She makes a distress call to the police and waits. Hours later we see Supergirl (Keri Spectrum) arriving with super speed, carrying a dazed Batgirl (Tracy Jordan) to the location. The two are dead set on capturing Harley, but a sleeping gas fills the room when they walk in. Supergirl scoffs, but soon starts to roll her eyes and stumble. Turns out the gas has been laced with KRYPTONITE! Both Batgirl slowly pass out, collapsing in a pile on the hotel room bed…

Moments later both superheroines are side by side, tied up, and stripped down to BIKINI versions of their usual suits. They come to slowly and are instantly interrogated by the psychotic Miss Quinn! She demands to know where her "puddin'" is being held, but the heroines refuse to give up the info. Harley proceeds to torture the do-gooders with KO after KO (tactics include: punchout KOs, eyerolling, eye crossing, blackjack strike KOs, slow cape strangulation chokes, twitching, tongue protrusion, and limb checks). Confident, Harley moves in for another attack, but Supergirl's hand suddenly closes around her throat! Kryptonite gas, apparently, tends to wear OFF!

Supergirl and Batgirl decide to punish little Harley, knocking her out via back and forth punchouts, a brutal neck scissors, and a long chloroform attack from Batgirl! Harley struggles, her arm reaching for a case nearby. She opens it, revealing a kryptonite shard! Supergirl succumbs, her eyes rolling as she collapses, out cold. Batgirl is too enthralled with the chloro attack to notice, and Harley goes to sleep. Batgirl finally sees Supergirl and drops Harley to the ground as she tries to wake her friend up! Harley comes to, grinning. Turns out she'd been holding her breath the whole time! She attacks Batgirl with the chloro-soaked rag, knocking her out COLD. She leaves both ladies in a pile as we fade to a few moments later.

Both heroines are tied up, bonded against each other. They come to, in pain…and terrified. They finally agree to tell Harley where her man is, much to the baddie's joy. She finishes them off with a final blast of sleeping gas, running off to find her lover as our heroines enjoy a blissful nap!

(includes outtakes)

SPECIAL THANKS TO COMIC BOOK LEGEND GEORGE PEREZ FOR WRITING SOME OF THE AMAZING LINES IN THIS CLIP!!!
Purchase this video at SKWPPV.com