"Impervia Humiliated" from Superheroine World
Gia Paige and Christie Stevens star in Impervia Humiliated from Superheroine World.
[flowplayer id="74817″]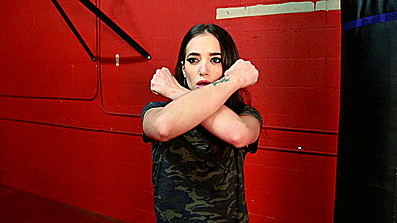 NEW! Superheroine World Episode #38! IMPERVIA HUMILIATED!

Starring Gia Paige and Christie Stevens!

Gia Paige (who is possibly the sexiest girl I've ever seen in real life) is Impervia, a superheroine who is completely impervious to any and all physical attacks. But our old friend Dr. Dread thinks he's discovered her weakness: HUMILIATION. He sends the evil Devil Girl, who has the power of teleportation, to test his theory. Indeed, the nefarious Doctor was right! Impervia is invincible, UNLESS you humiliate her! Then she gets as weak as a kitten!

Once Devil Girl realizes how effective her humiliating attacks are on Impervia, she focuses almost exclusively on them, using her power of teleportation to facilitate her plan. Lots of wedgies (both front and back), spanking, fondling, groping, stripping and bitch slapping leave Impervia totally helpless!!

Devil Girl then takes the defeated superheroine and ties her up (AOH), and pummels her belly and face with punches, before subjecting her to more wedgies and then a dildo! That's right, Devil FUCKS Impervia with a dildo every which way (hardcore!), until the destroyed heroine cums!!

This video depicts the complete demoralization and destruction of one of the most powerful superheroines in the galaxy!

Included in this HOT episode: Lots of wedgies (front and back), spanking, face punches, stomach punches, stripping, groping, fondling, forced orgasm, forcing mouth onto breasts, bondage, dildo fucking (hardcore), forced orgasms, bitch slapping, rag doll, lesbian domination, and much more!!

Over 30 minutes! $30. MP4 format. HD and super HQ versions available.
Purchase this video at Superheroine World