"Iron Girl vs The Sleep Mistress 2" from Superheroine World
Vanessa Veracruz, Charlotte Stokely, and Angela Sommers star in Iron Girl vs The Sleep Mistress 2 from Superheroine World.
Click here to download the high-quality trailer!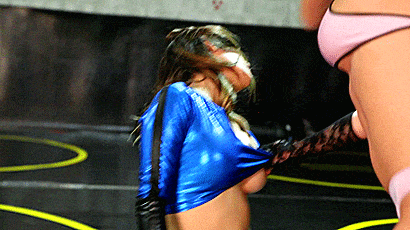 IRON GIRL vs THE SLEEP MISTRESS 2!

Starring Vanessa Veracruz, Charlotte Stokely, and Angela Sommers!

In part 1 of Iron Girl vs. The Sleep Mistress, we saw the evil Sleep Mistress DOMINATE the hapless Iron Girl with her amazing sleep powers! Part 2 is hardly any different, as we pick up where we left off, with the Sleep Mistress just toying with the completely helpless and ravaged superheroine!

Sleep Mistress bitch slaps, pummels, kicks, and gropes Iron Girl, before hanging her on the ring ropes and fucking her with a dildo! But what's this? Iron Girl's sexy sidekick Sparkle is here to make the save??

Alas, Sleep Mistress quickly makes Sparkle her bitch too, destroying the cute blonde with low blows and face punches and bear hugs and spankings and more! Then she forces Sparkle to suck Iron Girl's naked breasts!

Sleep Mistress even reveals another one of her powers: on weak-minded heroines (like Sparkle), Sleep Mistress can perform a kind of mind-control by tapping into her victim's DREAMS. Soon Sparkle is Sleep Mistress's zombified slave, helping her dominate Iron Girl all over again! Iron Girl is put through the ringer with various wrestling holds, and then is fucked with a dildo AGAIN!!! Complete and utter domination and humiliation!!

Over a half-hour of intense action, including HARDCORE toy action! Only $30! Check out the free trailer!!
Purchase this video at Superheroine World