"Kevin beats up the arrogant Jessica 2" from FemaleKicks.com
Clip includes kicks, punches, knees kicks, elblows, headbutts and knockout.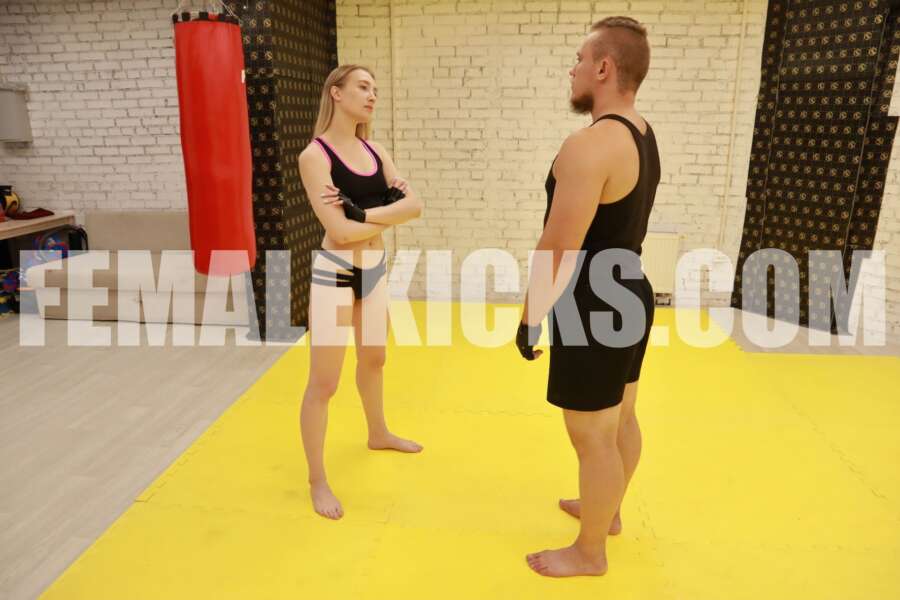 Full HD (1920-1080)
Product length: 11 minutes
Language: Russian with English subtitles
Custom clip request:
The performers are Jessica Vs Kevin.
The video is a sequel to my former custom called "Kevin beats up the arrogant Jessica".
The clothes are the same as the video above, for the sake of continuity. I hope that's possible, if not then something very similiar.
No earings, rings, necklaces, bracelets, no jewelry and piercings at all (i hate seeing them in a fight video).
Jessica wears her hair down and straight, to make her hair fly about when he performs suffering strikes to the face and head.
The story is:
Despite Jessica have been defeated so hard in the last fight, she didn't leeatrned her lesson and is even more arrogant than before and now she wants payback on Kevin. Jessica believes Kevin cheated somehow. Of course, Kevin didn't cheated, he won a fair fight but Jessica can't admit that because of how arrogant she is, she beleives herself to be the best there is.
Kevin doesn't want to fight again, but Jessica will not take no for an answer so with great reluctance Kevin accepts the challenge.
Kevin warns Jessica that if they are to fight again, this time there will be no mercy from him right from the start.
Jessica scoffs at the warning, she believes this time things will go her way, no question about it.
The fight is a total onde sided beating on Jessica right from the begining. Kevin is not hit once. Jessica receives all the strikes of the fight.
Jessica also gets blooded at the first minute of the fight and she gets more blooded and bruised as the fight goes on.
Jessica will suffers black eyes and face bruises as well as bloody nose, lip cuts and face cuts at the end of her eyebrows and minor facecuts.
Kevin throwns facepunches and kicks to the face and head of Jessica. No belly punches or body hits. All strikes are to Jessica's face and head.
Manty moments of Kevin punching the blood-spit out of Jessica's mouth.
Most punches and strikes are left and right punches on Jessica's face and jaw, complemented with a good many numbers of jabs and also uppercuts and kicks and some headbuts too.
Everytime Jessica fails to hit Kevin, Kevin hits back with long combos of 10 to 30 punches on Jessica.
For the first 7 minutes of the fight Jessica keeps trying to hit Kevin unsucessfully. In the last 3 minutes Jessica is too exausted to hit back and she becomes a punching bag for Kevin, in the end Kevin kicks Jessica in the face a few times until she falls for the last time, Kevin wins by KO.
I want the fight to feel very violent, like Kevin is destroying Jessica as a definitive final teaching her a lesson she will not forget this time (or will she?).
Jessica becomes very blooded and black-eyed in this fight, but not as extreme as in your video "Jessica Lost Her Fight" where she ended up with her face painted all red. No need to be that extreme. Broken nose, eyebrows cuts, cut lips, blood down her chin, a few cuts on her cheeks, and lots of blood-spit being punched out of Jessica's mouth, that's the kind of stuff i'd like to see in this custom.
Purchase this video at FemaleKicks.com