"Merry and the Clones" and Other New Videos from Sleeperkid
New videos from Sleeperkid include Merry and the Clones, The Bat's Gonna Hit the Fan, and Sentry Girls: Session 61.
Merry and the Clones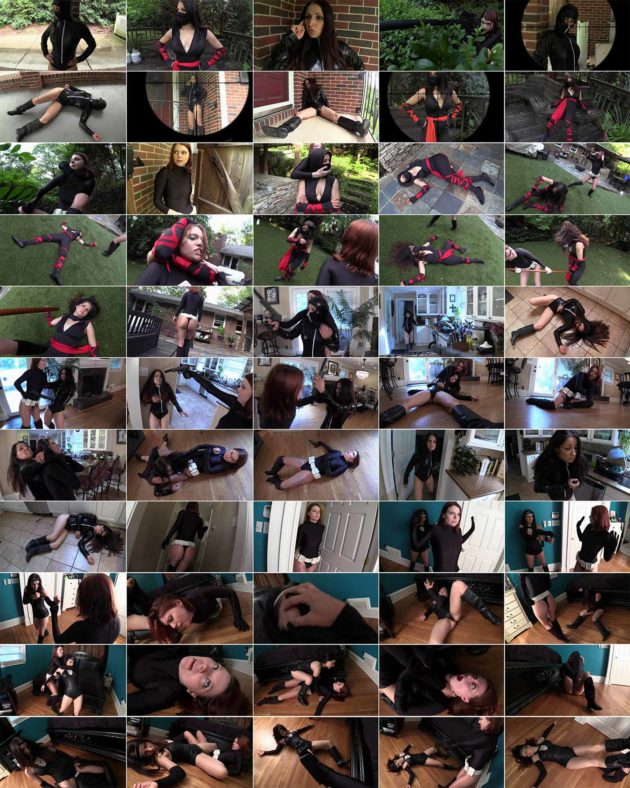 OVER 17 VICTIMS FALL TO AGENT MEOW'S SHARP SKILLS IN THIS AMAZING SKW RELEASE!!!!

Features multiple special FX shots, KOs, neck snaps…and a final battle that only leaves ONE fighter standing!!!

We fade in on agent Merry Meow, hidden in the woods with a special tranquilizer-filled sniper rifle. She receives orders to clear out an entire house of Hannah Perez "ninja clones". We see several clones patrolling the house's perimeter moments before Merry takes them all out with expert shots to the head and chest. Each time a clone is taken down, her body disappears and is transported to headquarters via a special mist that had been air-dropped earlier that day.

Merry makes her way into the house's yard and is suddenly attacked by a platoon of clones that seem to come out of nowhere!! She takes them all down and out with ease, however, using everything from neck snaps to bo staff strikes to get the job done. The clones disappear into thin air as she makes her way inside, taking out yet ANOTHER horde of ninja clones. She uses a silenced pistol to take most o them out, as well as a sleeper hold and some killer MMA chokes/silencer shots! After taking out 17 clones (!!!!), Merry makes her way to the bedroom, where she is greeted by the ORIGINAL Hannah Perez. Hannah points a machine gun at the agent's back but Merry convinces her to do things the old fashioned way. A brutal fist fight erupts between the two well-trained agents deliver kicks and punches that collide with each other's bodies and faces. A low blow drops Merry, with Hannah knocking her out with three face kicks…only to attempt a fatal chokeout. Merry manages to kick her way out, knocking Hannah out cold with a well-placed boot to the skull! Infuriated, she grabs Hannah's machine gun and finishes her off, adding a secondary blast just to make sure before dragging her out of the room!

This is truly one of the best clone videos we've ever shot, guys. And we guarantee fans of multiple KOs will love it!!!
Purchase this video at SKWPPV.com
---
The Bat's Gonna Hit the Fan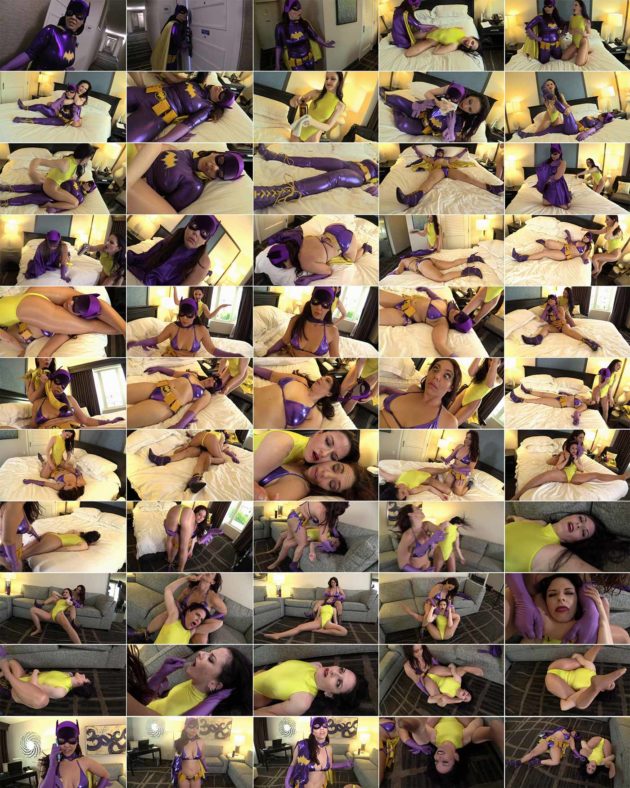 After a distress call, the lovely Batgirl (Tracy Jordan) makes her way to a hotel room: one where an unconscious woman (played by Caroline Pierce in her SKW DEBUT!) seems to be tied up on the bed. Tracy runs in to help but the woman wakes up and reveals that it was all a ruse set up so she'd be able to meet the one and only Bat-Tracy! Turns out Caroline is the superheroine's # 1 (crazed) fan, and an annoyed Bat-Tracy calmly tells her she has no time to hang out…as there are tons of people that REALLY need her help! She tries to leave but Caroline traps her in a sleeper hold, knocking her out cold! Insulted, Caroline proceeds to torture Bat-Tracy, repeatedly waking her up and knocking her out…and even changing her into a bikini version of her Bat suit!!!!

Included: sleeper hold, eyerolling, limb checks, eye crossing, chloroform KO, multiple punches to the face KO, tongue protrusion, sleep gas KO, derri "air" KO pose, reverse neckscissors KO, double karate chop KO, nerve pinch KO, blackjack strike KO, cape chokeout KO, mask removal

Caroline decides to take Tracy's belt of as well, only to get a huge dose of Bat-sleep gas from the booby-trapped accessory! She passes out on top of Bat-Tracy, who wakes up moments later. We then see a side of Bat-Tracy not many have witnessed: the rage-fueled heroine seeking revenge for the humiliations Caroline handed down! Tracy wakes Caroline up and tortures her # 1 fan with a sleeper hold KO, an OTS carry to the living room, a neck pinch KO WHILE in the carry, multiple angry punches to the face, an uppercut KO, a cape chokeout, a chokeout with Caroline's own FOOT, and a final forced ingestion of a sleepy drug that causes partial amnesia!

Caroline swallows the liquid, rolling her eyes as Bat-Tracy explains how she'll never remember her true identity. Caroline succumbs and goes to sleep. Tracy uses Caroline's own limbs to tie her up and leaves.

Moments later Tracy is on the phone, calling the commissioner and asking for Caroline's transport to Arkham Asylum. As she heads out, however, a blast of sleepy gas hits her. Turns out Caroline rigged the room to make sure she could not escape! We fade out on both unconscious ladies as this story comes to a close!
Purchase this video at SKWPPV.com
---
Sentry Girls: Session 61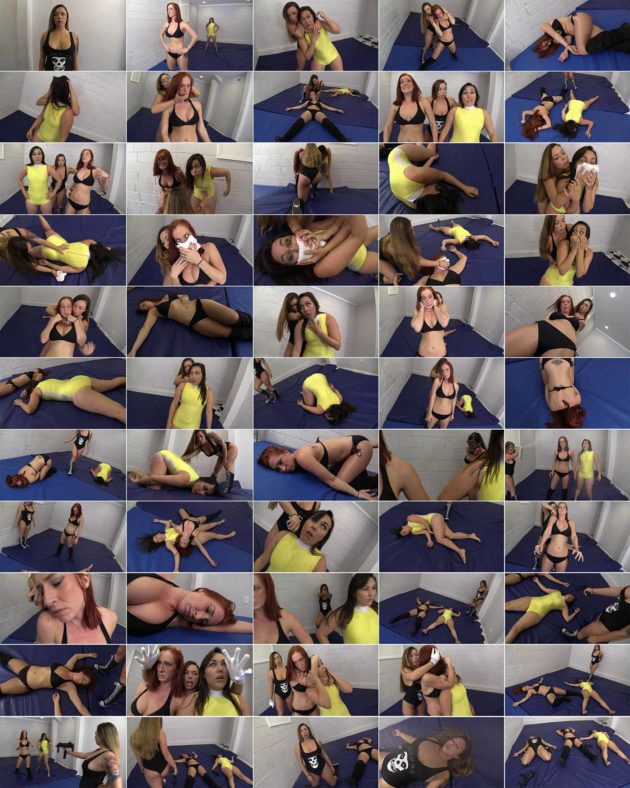 The lovely agent Torey Payne has been tasked to show off her sneak attack skills in a virtual reality demonstration against agents SINN SAGE and JESSIE BELLE! Needless to say, agent Payne delivers: taking her targets out effectively over a ton of different scenes!!!

Included: sleeper holds, sleeper hold / neck snaps, overkill neck snaps, double neck pinch KO, forced body slam, double solar plexus jab KO, chloroform KOs, knife stabs to the side and chest, knife stab to the throat, garrote KOs, tongue protrusion, drugged syringe KO, additional syringe attacks, sleeping gas attack, follow up sleeping gas spray KOs, tazer attacks and KOs, convulsions and twitching, drooling, tranquilizer gun shots, floor tranq shots, hypnotic glove trance, sentries forced to sleep and KO each other, machine gun attack, floor machine gun KOs, final sleeping gas KO for Torey
Purchase this video at SKWPPV.com