New Ninja and Spy Girl Videos from Jacquelyn Velvets
Jacquelyn Velvets has three new videos available — two in the "The Love Who Spied Me" series, and a new "Super Ninja Showdown" video.
The Love Who Spied Me Part 3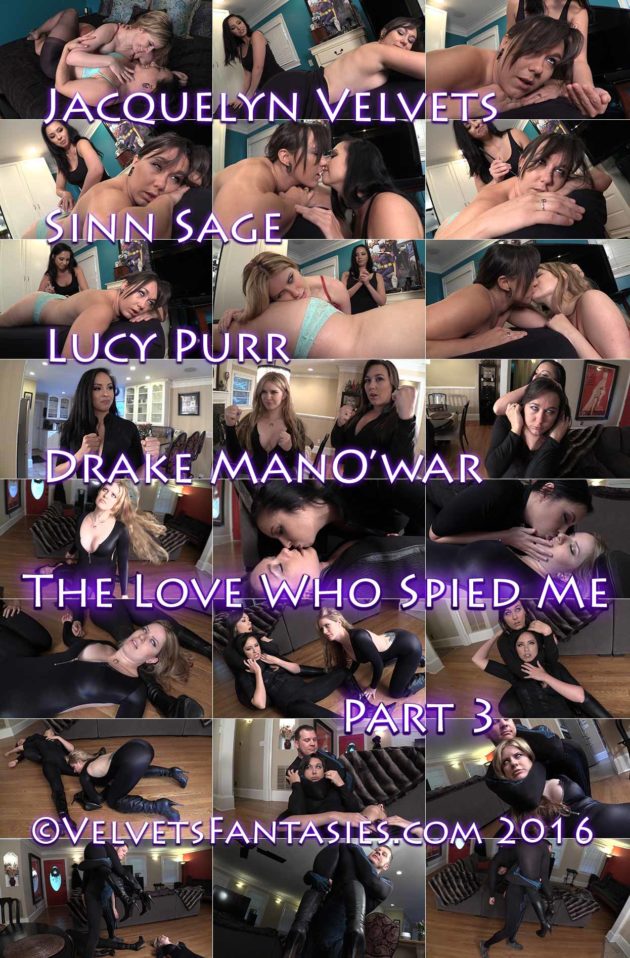 Starring Jacquelyn Velvets, Sinn Sage, Lucy Purr, and Drake ManO'War

We fade in on agents Jacquelyn Velvets and Sinn Sage, snuggling and kissing in bed as Velvets surprises her with a gift: she's hired a beautiful massage therapist to work on her after a long day. Sinn is beside herself with glee as we fade into the therapist (Lucy Purr) getting Sinn ready for a relaxing session. Little do the agents know, however, but Lucy herself is a rival agent tasked with finding vital information stashed in their home.

Lucy uses a special massage and scent oil as well as some well placed chopsticks on vital nerve clusters to repeatedly knock Sinn out during the massage, but she can't find the target flash drive. She finally uses a drugged syringe to put agent Sinn out for a few hours, but Jacquelyn interrupts the session. Lucy offers a small neck massage and uses the special sleepy oil to knock Jacquelyn out cold. Convinced that the flash-drive she's looking for isn't in the room, Lucy leaves and searches the rest of the house. A while later the agents come to and figure the situation out. They suit up and we cut to agents Sage and Velvets squaring off against Lucy. The ladies are clad in skin-tight black cat suits as they battle, but Agent Purr is way too fast for them.

Within seconds she knocks both girls out, but a sudden twist leads to a double KO between Lucy and Sinn that leaves three ladies unconscious on the ground. A mysterious male known only as "Drake" makes his way in, and it's soon obvious that he's Lucy's boss…and that he's found the flash drive while Lucy kept the agents busy. Sinn and Jacquelyn awaken but Drake quickly puts them out with back to back sleeper holds, only to carry all three ladies off over his shoulder: Lucy destined to go back to base, and agents Velvets and Sage headed for a dark cell in an underground bunker.

Will the love-crossed agents live to fight another day?

Only time will tell…

This movie contains sleepy massage oil KOs, pressure point KO, injection KO, sleeper hold KOs, punch KO, neck chop KO, kick KO, neck pinch/sleeper hold combo KO, over the shoulder carries, butt slaps, sleepy kissing.
Purchase this video at Velvet's Fantasies
---
The Love Who Spied Me Part 2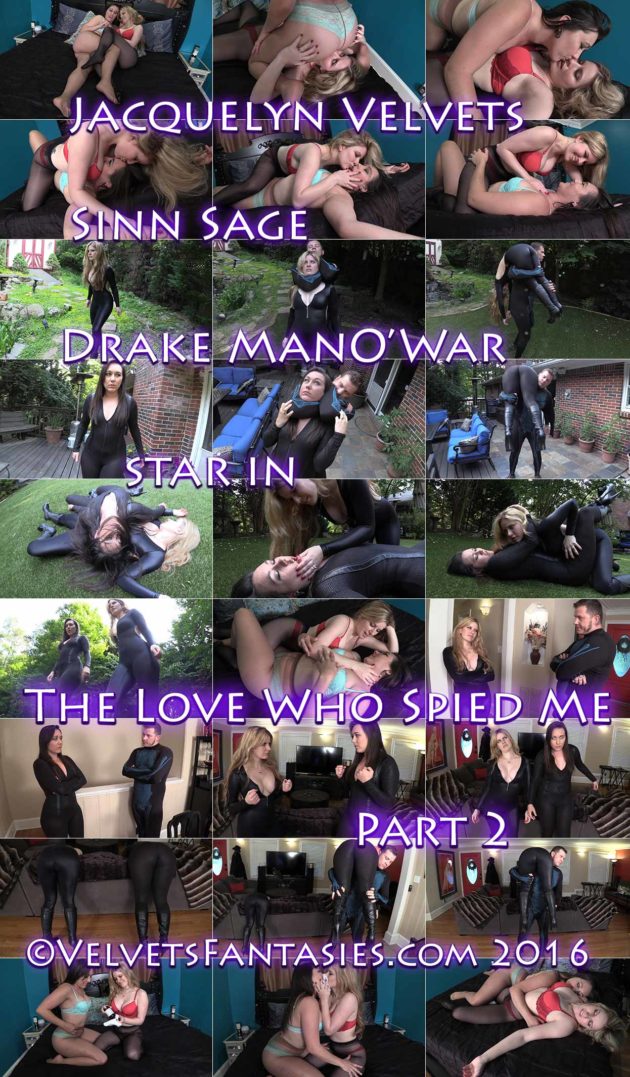 Starring Jacquelyn Velvets, Sinn Sage, and Drake ManO'War

We fade in on secret agents-turned lovers Jacquelyn Velvets and Sinn Sage as they snuggle in their bed, reminiscing about old missions and the art of the knockout…which they both think they've mastered completely. After a playful argument over who's more effective at taking an opponent out, Sinn attacks with a facesit, enjoying every second it takes for agent Velvets to fall asleep. She kisses her sleeping partner, who comes to and replies with a playful breast smother that eventually drains Sinn of all consciousness.

Jacquelyn delights in kissing and caressing Sinn, waiting til she awakens. Exhilarated by the contest, both girls talk about the time they first met, and we flash back to both agents dressed in sexy black catsuits…both stalking their targets only to get knocked out by a mysterious male agent known only as "Drake". He carries them both into a body pile and leaves before they awaken. The ladies come to and attack, exchanging KOs before finally deciding to form a truce in order to take their mutual enemy out.

We cut to the agents back in the bedroom, reminding each other of the one time Sinn turned on Jacquelyn…an adventure we once again flash back to, culminating in a series of twists, KOs, and some devious manipulation on the part of Drake…leading to both ladies unconscious and carried away yet again!

Back in the present, Sinn feels a bit guilty about that "one time" she double-crossed her partner and offers Jacquelyn a free knockout. Jacquelyn in turn offers a double KO in order to clean the slate and Sinn happily accepts. The two lock in a kiss blocked only by a chloroform-soaked rag, fading out and managing a final actual kiss before passing out, side by side…

This movie contains butt smother KO, breast smother KO, sleeper hold KOs, body scissor KO, double karate, chop KO, double chloroform KO, over the shoulder carries, body piles, butt slaps, sleepy kissing
Purchase this video at Velvet's Fantasies
---
Super Ninja Showdown! Part 4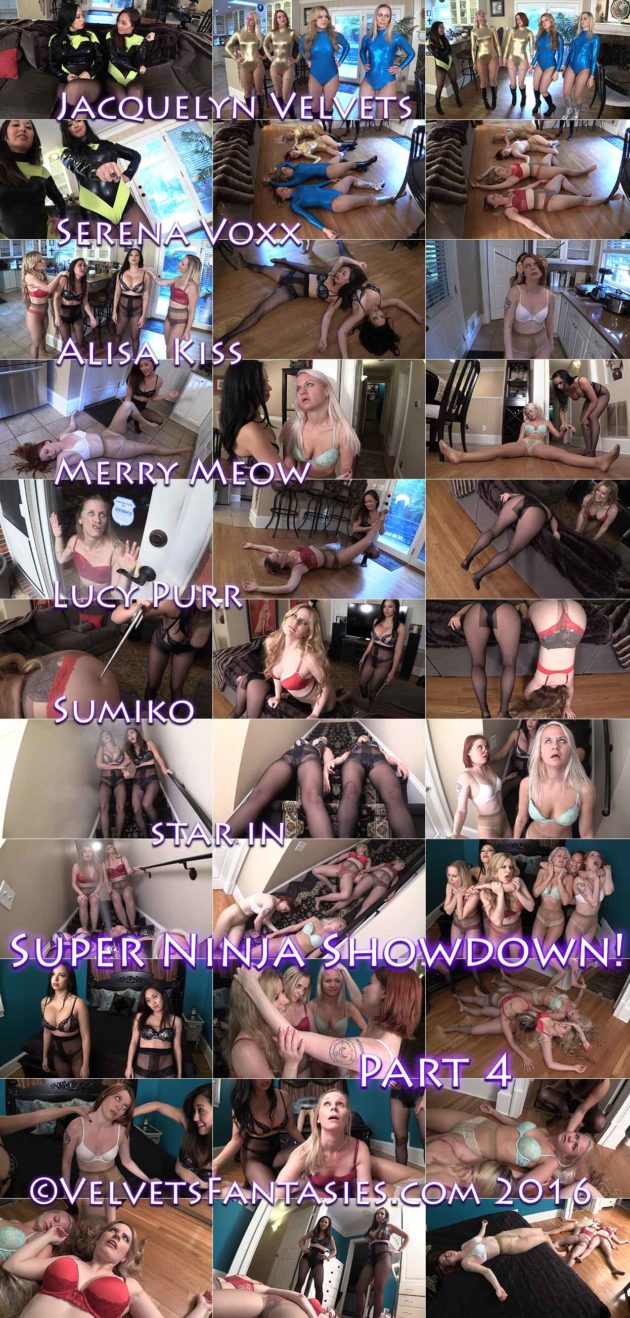 Starring Jacquelyn Velvets, Serena Voxx, Merry Meow, Alisa Kiss, Lucy Purr and Sumiko

THE BATTLE CONTINUES

The Dream Team of sexy female Supers are back…this time comprised of the beautiful Jacquelyn Velvets, Merry Meow, Alisa Kiss, and Serena! Sent to rescue an imprisoned hostage, the four make their way into a house that's unknowingly populated by two of the deadliest ninjas in the business: Sumiko and Lucy Purr! The Asian beauties sense their attackers early and decide to have a little fun, with Sumiko jumping the gun and knocking the four Supers out cold as soon as they enter her lair.

Lucy uses a magic ring to strip the Supers of their special power suits, weakening them as they slumber…but when Sumiko demands some time with Lucy's weapon the two ninjas accidentally zap each other's suits off, revealing a room of lingerie-clad beauties! Lucy and Sumiko argue over the mishap, allowing for a sudden sneak attack KO from Serena and Jacquelyn! The four Supers are now back on their feet, but there's a rift between Supers Velvets and Serena.

The two tangle over how to proceed as Lucy comes to and grabs her partner, using her ring to teleport them to a different part of the house!

Back in control, the devious ninja duo turn the evening into a game of cat and mouse, with the four do-gooders taking turns getting knocked out by their more experienced enemies. The action builds to a killer climax in the bedroom, as the Ninjas and Supers square off in a showdown that ends with an unexpected double KO for Sumiko and Lucy! A sudden betrayal from one of the Supers turns the tables, however, leading to yet another twist…and a final set of knockouts that leave four fighters unconscious as their foes make their escape!

This movie contains quick KO reactions, multiple neck chop KOs, neck pinch KOs, temple drill KO, head bonk KO, punch KO, kick KO, poison sai stabbing KO, sleepy gas KOs, head butt KOs, limp limb manipulation, body piles
Purchase this video at Velvet's Fantasies