New "Sumiko" and "Snowflake" Videos from Sleeperkid
Here's a look at a couple of new videos from Sleeperkid — Sumiko vs. The Underground – Chapter Four and The Snowflake Chronicles: Volume Five.
Sumiko vs. The Underground – Chapter Four
We fade in on the owner of the dreaded Underground Female Wrestling Federation instructing a mindless and violent minion known only as the Phantom (played brilliantly by a masked Bambi Buttons) to retrieve Detective Sumiko for him. If you've been following this story, you know Sumiko's managed to get herself kidnapped by the Federation, but when The Phantom enters the mat room and finds Sumiko gone, the crazed wrestler freaks out…until Sumiko attacks with a karate chop to the neck, some kicks to the belly, and a massive kick to the jaw! A desperate Sumiko traps her into a sleeper/hand over mouth smother that knocks the evil minion OUT! Sumiko makes her escape, breaking out of the house and running across the backyard…until a silenced tranquilizer dart hits her backside. A shocked Sumiko drops to the ground, convulsing and paralyzed as we see the now conscious Phantom stand her up and nail THREE back to back heart punches (the last one producing a drooling spit-take) that knock Sumiko out cold. She slumps forward, into the Phantom's over the shoulder carry. She takes the sleeping detective in for a night of brutality…and a few twists and turns, added for flavor.

The evil overlord laughs as The Phantom drops Sumiko onto the mats, instructing her to give Sumiko the beating of a lifetime. The Phantom obeys, never uttering a single word as she demolishes the Japanese jobber with tons of brutal holds, including:

tazer attacks, belly punches, belly attacks to a KO, post belly KO attacks, seriously, there's a lot of belly attacks, multiple drooling KO scenes, eye gouge, surfboard with finger bending, finger biting, armpit claw pressure point KO, stomps to the back, leg drops to the belly, extended boot choke KO, eyerolling, tongue protrusion, fainting KO, backbreaker, over the knee backbreaker with HOM smother KO, iron claw convulsing/drooling KO, cobra clutch KO, extended leg hook pin

The Phantom is ordered to take Sumiko away after her devastating defeat. She goes to pick the sleeping detective up but Sumiko manages to taze the masked maniac, dropping her like a rock. She crawls on top of The Phantom and finishes the job, pressing the tazer into her chest until she stops moving. Sumiko removes the evildoer's mask…only to realize she's one of the many girls reported as kidnapped by the Federation. She tries to leave but the room fills with sleeping gas, knocking her out COLD!!!

We hear the Federation leader's voice ring through the now silent room. He's impressed with Sumiko's spirit…and he wonders if it's now time for her CONVERSION to his underground cult…as the camera fades to black.*

*The "unofficial" continuation to this tale will be up at www.velvetsfantasies.com very soon…and features one hell of a torture session for Detective Sumiko! Check it out when you can!!!
Purchase this video at SKWPPV.com
---
The Snowflake Chronicles: Volume Five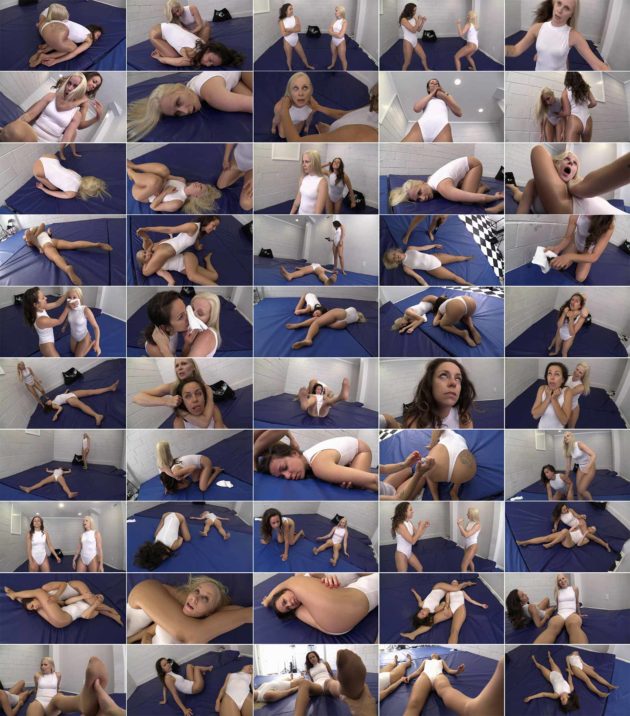 In this sequel to BIONIC SERENA (filmed 13 years ago!!!), agents Lia Labowe and Serena Voxx find themselves unconscious and trapped in a fighting room. The ladies come to and immediately square off, enemies for longer than they can remember…when a voice suddenly pierces the air. Turns out they're both there to audition for Agency Snowflake…and they're bionic powers have been jammed.

The winner becomes a high-ranking agent, while the loser gets terminated. The ladies smile, both preparing to do battle in order to make it into the notorious agency…and what follows is a KO-packed battle til the bitter end, including a finale that features the re-activation of their bionic limbs for a final and epic round!!!!

Included:

multiple KOs, eyerolling

(Lia's attacks): belly blows, punches, sleeper hold KO, arm checks, double karate chop to the neck KO, double neck pinch KO, belly punching against the wall, solar plexus belly punch KO, derri air KO pose, multiple blackjack strikes to a KO, triangle choke + face punch KO, reverse figure four neckscissors, tranquilizer dart KO / multiple shots, chloroform

(Serena's attacks): forced double chloro kiss KO, body pile, sleeper hold KO, double temple drill KO, neck snap, belly stomps, knee strikes to the skull KO, garrote choke out, reverse headlock chokeout, drugged syringe attack KO

…in the end, the room fills with sleeping gas, putting both girls out…who are then forced to do battle with their bionic limbs re-activated. Lia attacks with a brutal bionic punch that floors Serena, then traps her into a neck scissors that Serena returns in kind! The two squeeze away, slowly rendering each other unconscious. The voice of the agency's leader enters again…and he decides to give BOTH ladies spots in the agency, as long as they're willing to work together. The two begrudgingly agree, and the agent's master uses foot pressure points to knock them both out so they can be processed!!!
Purchase this video at SKWPPV.com