New "Sumiko" and "Gun Games" Videos from Jacquelyn Velvets
Here's a look at a couple of new videos from Jacquelyn Velvets: Sumiko's Carry-Out Service and Gun Games 2.
Sumiko's Carry-Out Service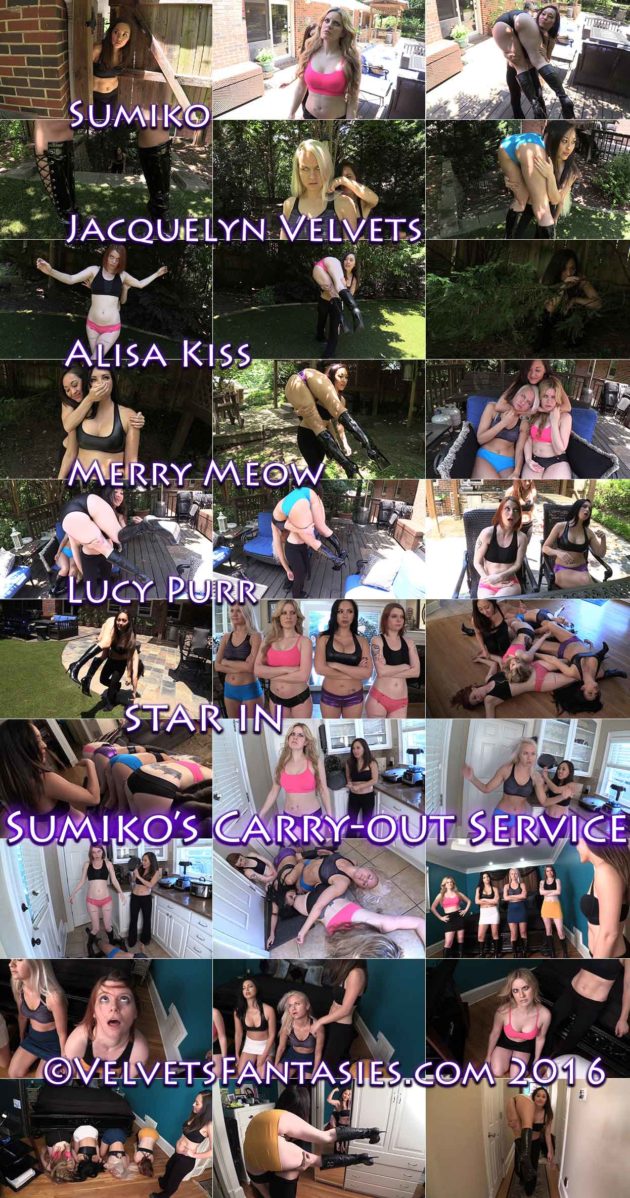 Starring Sumiko, Jacquelyn Velvets, Alisa Kiss, Merry Meow, and Lucy Purr

A house filled with clones of agents Velvets, Merry Meow, Alisa Kiss, and Lucy Purr. A single agent sent to take the entire group down. And yes, agent Sumiko is smaller than most, but what she lacks in size she makes up for with sheer strength, stealth, and ability. We see her survey the back yard before taking each clone out quickly and effectively, each time carrying their limp bodies away over her shoulder until a pile of the sleeping baddies are left in a nearby shed. She then makes her way inside, dispatching every girl in the area with her trademark speed. Her knockout tactics are quick and effective; as is the power she exudes when she carries most of the girls away!

A final set of clones await her in the bedroom…but it turns out they're the originals, all led by Jacquelyn Velvets, who taunts agent Sumiko before attacking with a sudden punch that Sumiko instantly blocks. In a flash she uses her hand to hand skills to stun all FOUR ladies, finishing them all off with separate knee strikes to the face.

"I've gotta be the strongest agent there is!" Sumiko says confidently, taking her time as she over the shoulder carries each unconscious rival out of the room with ease!!!

This movie contains neck chop KOs, neck pinch KO, punch KO, hand smother KO, double choke out KO, double neck chop KO, head bonk KOs, frying pan KOs, knee kick KOs, multiple g/g OTS carries, eye checks, butt slaps, body piles, limp limb manipulation.
Purchase this video at Velvet's Fantasies
---
Gun Games Part 2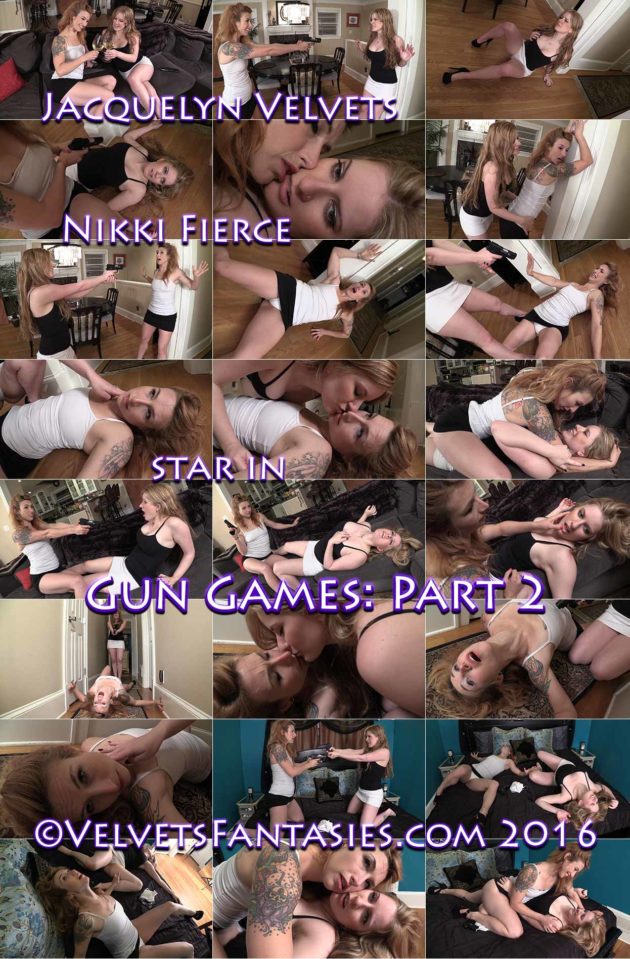 Starring Jacquelyn Velvets and Nikki Fierce

We fade in on Nikki Fierce and Jacquelyn Velvets enjoying the end of a classic female noir film…one where the femme fatale is gunned down in the final act. The girls seem quite excited by the very idea of this happening and decide to engage in some fun role play. They grab some gas-powered handguns and proceed to stalk each other around the house, "gunning" each other down and enjoying the sexy body thrusts and moans they make before a final shot (and some sensual kisses) ends it all.

Over and over again, Jacquelyn and Nikki take turns playing victim and assassin, with each steamy elimination exceeding the one before it. A final double assassination on the bed provides the night's climax…leading to both ladies getting up and hugging as they talk about how amazing the role play was…and how they're "dying" to try it again soon!

This movie contains multiple pistol shot deaths, pulse checks, pleading, death stares, post-mortem kissing, limp limb manipulation

There are NO blood scenes or special effects just sexy girls dying over and over in various ways!

**This movie features my gas-powered gun props that provide realistic recoil and occasional "smoke puff" effects!!**
Purchase this video at Velvet's Fantasies