One Day Sale from The Battle for Earth
One Day Sale From TBFE!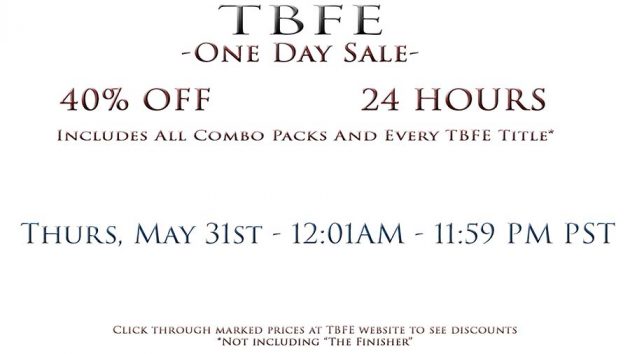 Thurs, May 31st, 12:01 AM to 11:59 PM, every title is discounted 40%! This includes all combo packs on the website and all recent releases except "The Finisher" which comes out May 30th. Combo Packs on the website have been updated and are discounted 40% on top of the bulk discount:
http://thebattleforearth.com/Combo_Packs.html
You can purchase from either http://shg-media.com/Default.aspx?SellerID=BFE or www.thebattleforearth.com.
Please remember, to see discounted prices, go to www.thebattleforearth.com, The "Purchase Button" will always have the non-discounted full price. If you click through and load it into your cart, it will then reflect the discounted rate, so long as it's May 31st!
And don't forget, Combo Packs are only accessible through www.thebattleforearth.com and not SHG!
Enjoy!