"Project Supergirl" from Anastasia Pierce
PROJECT SUPERGIRL, Supergirl becomes a lab experiment!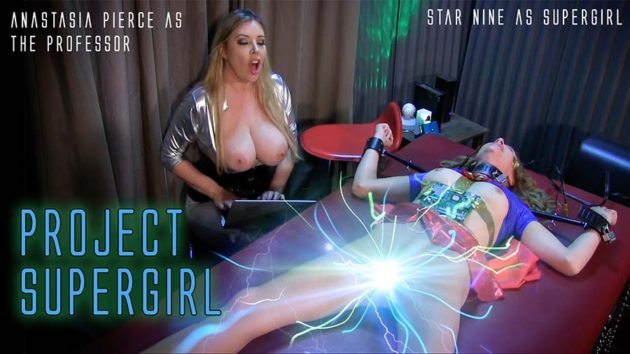 HD-MP4: http://www.clips4sale.com/5196/21271393
SD-MP4: http://www.clips4sale.com/5196/21271395
Starring: Star Nine as Supergirl and Anastasia Pierce as The Professor
Summary: The SETI institute (Search for Extra Terrestrial Intelligence) located in the cascade Mountains of California is ran by it's founder Professor Zabrinsky. The professor is truly brilliant and an incredibly talented researcher who formerly worked with NASA and the US Military until she was recently discharged. The rumor is that she adopted aggressive research prohibited by the Government.
The professor was removed from the NASA program and started: The Frontier development Lab, where she presently resides. Dedicating her time to further the exploration and research on Extraterrestrial Intelligence.
Supergirl was sent to keep an eye on her and report on her core research… until she becomes the research!
This is PROJECT SUPERGIRL
The Professor will conduct extensive research on her new subject!!
Includes: Star Nine as Supergirl, Anastasia Pierce as The Professor, Original Super Heroine Costume, Over the shoulder carry, Sleepy, limp fetish, fondling, stripping, Pantyhose, Helpless Super heroine, Alien experimentation, Special FX. Bondage, gag struggling, Lab experiment, kryptonite, Brain Research, Physical Challenge, Mental humiliation, Parody, Weak, Helpless. Peril, Heroine in Distress and Peril. No Escape!