"Starshame" – a Luciafilms Custom Film

The battle between the once-slave Starfire (Alicia Moon) and her covetous sister Blackfire (Lucy Westenra) continues unabated. Our heroine wakes being drawn into their lair next to a diabolical machine, the dreaded Deathstroke (Beta) lending the villainess his deadly prowess. Right from the start, the battle is on as the siblings war over their grievances with brutality and power.

Despite the might of our heroine, Deathstroke is not to be underestimated, and his involvement tips the scales in favor of the wicked duo, allowing Blackfire to sate her ambitions and naked lusts upon her sister. At least… until her 'ally' betrays her.

Will Starfire survive her sister, the powerful villain, and the treacherous machine? Or will she succumb and find herself once more in eternal bondage?

Find out in this Luciafilms Custom Movie! Starshame!
—
Other important news at the bottom of the post.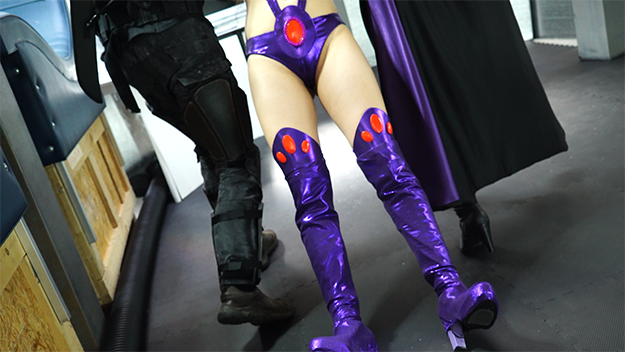 Features List:
———————————
-Amazing Costumes
-Double-teaming
-Powerful Heroine
-Lots of Combat
-Superpowers
-Many Low-blows.
-Bear Hug
-Power Draining
-Humiliation
-Beatdowns
-Knockouts
-Weapon Use (Bat/Sledgehammer)
-Simulated Insertion/Vibrator
-Two Debootings
-Femmedom
-Groping
-Slapping
-Grappling/Wrestling
-Several Wedgies
-Cradlecarry
-Spanking
-Minor Costume Destruction
-Betrayal/Plot Twists
-Brief Hair Pulling
-Crushing
-Suggested Livestreaming
-Belly Punches
-Kissing
-Arm Breaking
-Suggested Incest
-Forced Orgasms
-Forced Oral (Both Genders)
-Messy Facial
-Simsex from Various Positions
-Strangulation
-Electrocution
-Unconsciousness
-Full Nudity (Both Actresses)

NEWS:
We migrated our E-mail System! Hurrah! You can now e-mail us at luciafilms.customs@gmail.com and, most importantly, we can successfully e-mail you back! Rest in Peace, luciafilms.rocks, you will be missed. Kinda. A little. You had a cool name at least.
(Some elements like our website still show the old address, this is being updated asap!)

Paypal should be working again! Some bugs have been ironed out and hopefully this option will remain available for those who prefer it. So if you missed out on any recent films due to this, be delayed no further!

Buy this film and many others at-
https://www.shg-media.com/DisplayStore.aspx?SellerID=lucia