"Stolen Drive 5" from Femme Fatale Fight Club
Check out our latest release: STOLEN DRIVE 5.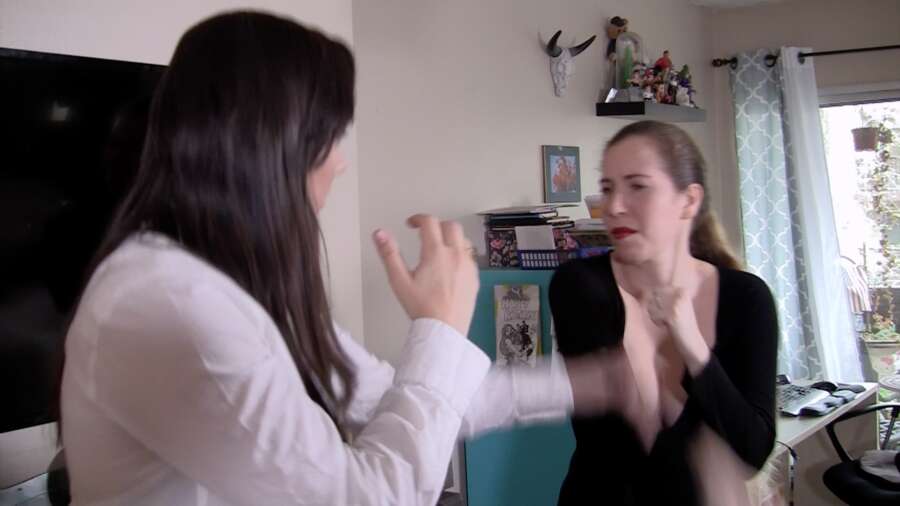 Samantha Grace breaks into rival Agent Sinn Sage's apartment. She starts rifling through the drawers, trying to find a thumb drive containing sensitive files, but Sinn catches her at it. She holds up the drive, and challenges Samantha to try and take it.
After an initial exchange of punches and blocks it seems as if they're evenly matched, but Sinn soon gets the upper hand and stuns Samantha with a series of hooks, culminating in a devastating belly punch followed by an uppercut. With Samantha effectively out on her feet, Sinn comes round behind her and puts her to sleep with a chloroform pad.
Sinn calls her case officer to report the attack and is ordered to find out who sent Samantha. She wakes Samantha and drags her up by her hair, then subjects her to a series of belly punches and an extended belly claw. Still Samantha refuses to talk, so she puts her in a sleeper hold and sends her to sleep again.
The case officer calls Sinn back for an update, but as she's talking Samantha wakes up and sneaks up behind her. When she turns round she's only just able to block Samantha's first hook, but not her second and the uppercut she follows up with. With Sinn now stunned, Samantha is able to punish her with a series of devastating belly punches that send her to her knees. Samantha places her foot on Sinn's chest and pushes her over, then takes out a rope and slowly chokes her out.
Glowing with triumph, Samantha plays with Sinn's limp body, then rolls her over and takes the drive she came for.
Includes the following:
• Punches/blocks
• Kicks/blocks
• Hooks
• Uppercuts
• Belly punches
• Belly claw
• Hair pulling
• Sleeper hold
• Chloroform
• Long choke-out with rope
• Rolling eyes
• Eye flutter
• Limp body