"Teacher Lora vs Boss and His Thugs" from Lesley Fox
A reader recently sent in a tip about a producer and performer with whom I was unfamiliar — Lesley Fox. In particular, this reader recommends the video Teacher Lora vs Boss and His Thugs, although there are many more videos (including superheroine ones) available at her site. Check out more information below.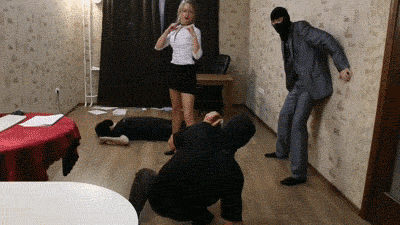 Custom clip request

A group of gang members seek out revenge on Lora the Teacher for humiliating their gang and beating them. Their leader wants revenge and hires the best martial artists he can think off in order to destroy our heroine.

Lora the teacher, while grading papers is caught of guard because of this sudden attack. Her martial arts skills are tested to their limits as fighters with incredible skill have to come to finish her off. She will fight them off, but bad guys have skills that can't be ignored. She's good, but they seem better prepared and they attack in numbers. She hurts them, but they hurt her back, and it affects her ability to fight back. It takes all her skills to fight them off… But… Will she win the day?
Purchase this video at LesleyFox.com
Check out more videos at LesleyFox.com