"Time Trapped" from Anastasia Pierce
Anastasia Pierce and Arielle Lane star in Time Trapped: Catwoman vs. Silk Spectre.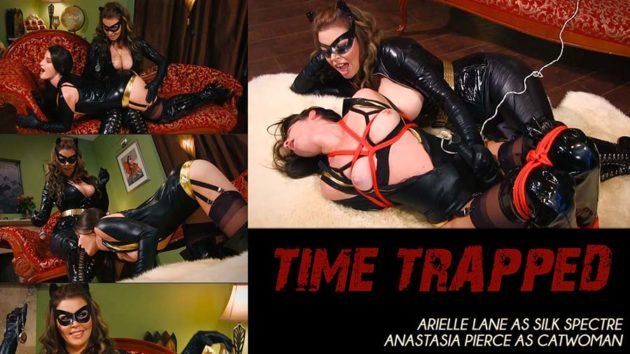 It's time for an other new adventure!
This one is based on (and an homage to) the recent Gotham City TV show episode where the Mad Hatter Mesmerized several people
( EpisodeS3, Ep3 – Oct. 2016, Mad City: Look Into My Eyes).

TIME TRAPPED – Catwoman vs Silk Spectre

Available at https://www.AnastasiaClips.com

HD 1920 MP4 – https://clips4sale.com/5196/16593778
Hd 1280 Mp4 – https://clips4sale.com/5196/16593678
Phone/Mobile – https://clips4sale.com/5196/16593842

Starring: Anastasia Pierce as Classic (1966) Catwoman and Arielle Lane as Silk Spectre

Synopsis: Catwoman has once again stollen precious object, amounts them a beautiful pocket watch.
She is admiring the watch as young Silk Spectre, beautiful crime fighter enters her residence. Catwoman remains calm and quickly opens the pocket watch and hypnotizes (mesmerize) the innocent and unexperienced super heroine.
"Look into my eyes, not above them, not around them but straight into their centers…"
The young super Heroine can not resist and finds herself obeying Catwoman.
Humilation, Boot and Leg Worship, Spanking, Bondage, Struggling and Forced Orgasm will all take place with the innocent young super heroine in and out of hypnosis realizing what is happening to her.
A captivating adventure.

Includes: Anastasia Pierce as Classic (1966) Catwoman, Ariella Lane as Silk Spectre, authentic super heroine legendary costumes, SHIP, Striptease, Mesmerizing, Magic Control , Leotard, Spanking, OTK, bondage, Smothering, gag, girl-girl, Super Villain, Forced orgasm, in and out of consciousness and reality, Boot and Leg Worship, Struggling, Humiliation, peril, Cosplay, Trap, Parody, weak, helpless, super-heroine in distress with bondage and humiliation. No escape.