Two New Videos from Sleeperkid
Sleeperkid has released two new videos: A Collector's Story 20 and Harley's Trap: Version 2.0.
A Collector's Story 20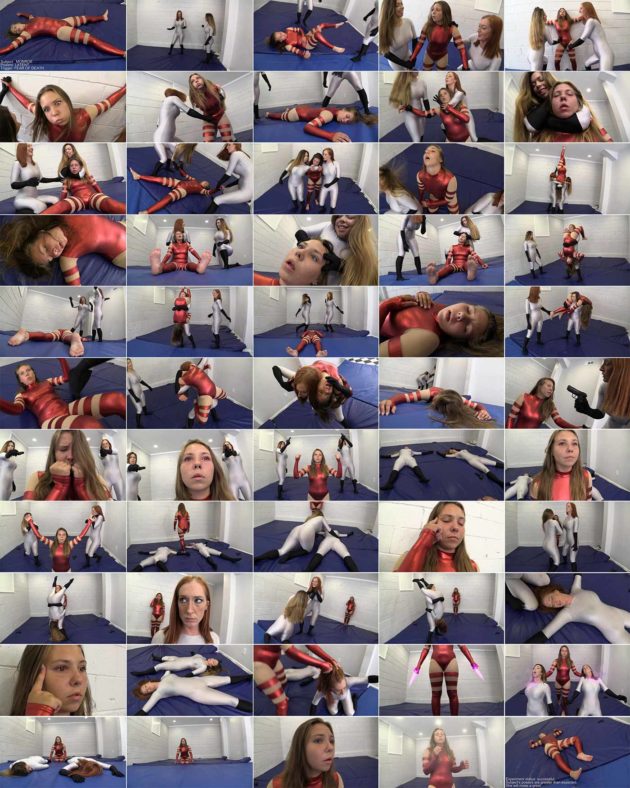 We fade in on an unconscious Monroe, AKA: an innocent girl with latent super-powers kidnapped by The Collector for a display of strength. Unfortunately for Monroe, the only way for her powers to manifest is after pain and fear of death. In walk two female thugs (Jessie Belle and Torey Payne), hired to simply beat the holy heck out of the young victim! What follows is exactly that, as both baddies take glee in destroying Monroe via a variety of brutal tactics and finishers, including:

belly stomps, hair pulling, belly blows, 2 on 1 belly attacks, face punch KOs, sleeper hold KOs, eyerolling, drooling, double stunner KO, double stalling/standing suplex KO, pressure point grip KO, convulsing, temple pressure point attack KO, PILEDRIVER KOs, TOMBSTONE piledriver KOs, attitude adjustment, southern discomfort, belle ringer KO

After a thorough thrashing, the bad girls decide it's to end it for Monroe. They point two handguns at the young girl's head as Monroe begs for them to stop…to leave her alone. She whimpers as they count down. Her eyes shut in fear…then suddenly open, her pupils red as blood. Her fear is gone, and the girl sitting on ground is no longer Monroe. Whoever this new creature is, she has some serious power. Torey and Jessie find themselves unable to move their bodies as Monroe forces them to knock each other out with their own guns!

This new heroine smiles as she forces her torturers to wake up, choking them and slamming them into each other using her mind. The thugs fall unconscious yet again as Monroe stands against a wall and closes her eyes. She enters Jessie's mind and forces her to knock her partner out with a piledriver…even though Jessie is completely unconscious the whole time! She then forces Torey's sleeping body to do the same to Jessie as her grin widens. She commands Torey to go into a deep sleep and goes in for the kill.

Monroe forces both criminals to their knees and unleashes a pair of PSYCHIC BLADES. Jessie and Torey whimper and beg for mercy, but that ship has sailed. Monroe plunges the blades into the back of the girls' necks, destroying their nervous system with a single blow. The thugs collapse to the ground, convulsing, moments before Monroe disintegrates them with a single touch.

Monroe's eyes open a few seconds later and she's back to normal…and terrified. She knows what she's done and has no idea what compelled her to do it. She tries to escape but the room fills with a sleeping gas that puts her out in seconds.

The Collector, it appears, has added yet another heroine to his ever-expanding roster.
Purchase this video at SKWPPV.com
---
Harley's Trap: Version 2.0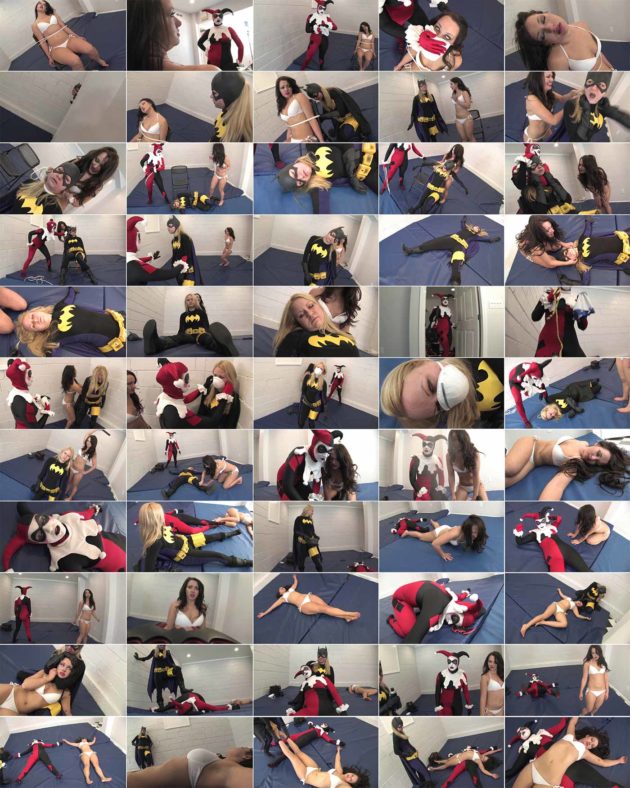 We fade in on the lovely Bambi Buttons, dazed and tied to a chair as the evil Harley Quinn (Jessica Nova) watches her, smiling. She proceeds to punch her hostage in the face but the girl refuses to pass out. Harley decides to use chloroform and it does the trick. She leaves the girl out cold and bound for Batgirl (Alisa Kiss) to find after a distress call! Alisa makes her way into the lair and unties the dazed Bambi. Alisa turns to make their scape, not noticing as Bambi grabs the rope she was tied with and attacks! She wraps the rope around Batgirl's throat, cackling as she slowly knocks her out.

Harley enters, and it becomes obvious that Bambi is simply her lackey…and this whole scenario was a trap for the Bat! They proceed to have fun with Alisa, knocking her out with sleeper holds, multiple face punches, a brutal uppercut KO, karate chops to the neck KO, sleepy dust mask KO, and a brutal blackjack KO!

Bambi tries to remove Batgirl's belt as a trophy but sets off a booby trap that gasses both HER and Harley! The baddies fall asleep as Batgirl slowly co mes to, leading to some much-needed JUSTICE. She hides, letting the bad girls wake up so she can strike with some well placed BATARANG shots that knock the evildoers out COLD! Alisa goes on the attack, knocking Bambi out with a sleeper hold and following up with a karate chop blow on Harley! She ends it all by lining both girls up and using their own sleeping gas on them. They collapse unconscious, leaving Batgirl to pile them up before calling the police over with the Arkham paddy wagon!
Purchase this video at SKWPPV.com