Wonder Woman 4 – Shape Shifter's Revenge
Wonder Woman 4 – Shape Shifter's Revenge (Explicit Content)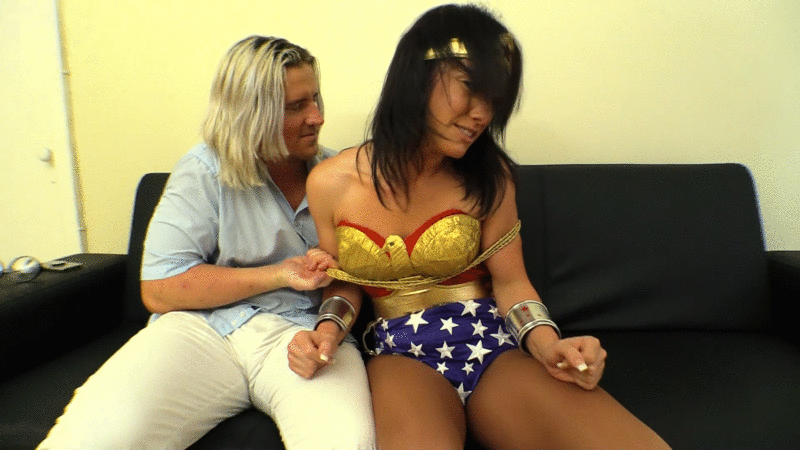 Starring Jennifer White as Wonder Woman and Diana Prince with Charlie Comet as the Evil Alien Shape Shifter available at www.clips4sale.com/67405/
Fetishes
-Season One Wonder Woman Costume with Tights
-Two! First Season Classic Graceful "Retro Spin" Transformations
-Classic Wonder Woman Plot Dialogue and sayings like "Mighty Aphrodite" and "You'll never get away with this"
-Two lift and carry sequences
-Shape Shifting Villain
-Mind Control Pyramid
-Superheroine in Peril in her Secret Identity with Classic Glasses
-Villain Secretly Observing and Setting a Trap for Superheroine
-Superheroine Unconsciously Avoiding Trap Multiple Times before Falling Into Trap
-Superheroine in Secret Identity Trying But Unable to Remove Mind Control Pyramid from her Hands
-Failed Diana Prince to Wonder Woman Transformation Ending Topless Half Wonder Woman Half Diana Prince
-Superheroine Fighting Mind Control into Giggling Bimbo Back and Forth
-Tiara Toss
-Superheroine Fighting an Invisible Enemy
-Superheroine Slowly Weakening from Poisonous Insect Bite
-Villain Binding Wonder Woman in her own Magic Lasso
-Classic Wonder Woman Magic Lasso Takedown Interrogation
-Debelting
-Feminum bracelet removal and villain rubbing Wonder Woman's bare wrists
-Tiara Removal and Rubbing Wonder Woman's bare forehead
-Wonder Woman Fighting until Falling to Power of Magic Lasso
-Classic Superheroine Peril Takedown with Lots of Struggling
-Limp Fetish with Debooting, Leg Rubbing, Foot Worship, Crotch Play, Face Tapping, Head Rolling, Topless Titty Play and Lift and Marriage Carry
-Superheroine Magic Lasso Controlled into Giggling Bimbo
-Superheroine Doing Other Changed into Sex Hungry Air Head with Magic Lasso
-Superheroine Air Head Gleefully Begging for Hardcore Sex
-Adult content we can't describe here.
Story
The evil alien shape shifter wants revenge on Wonder Woman! The intergalactic chameleon has escaped to Earth looking for his superheroine quarry. Worse the shape shifter knows the Amazing Amazon's secret identity, Diana Prince.
The Council of Planets has notified Diana Prince. The council has sent a mind control pyramid to locate and trap the alien. Little does Diana Prince the shape shifter is already in her apartment checking her out. Interplanetary Perv! When Diana Prince is unaware, the shape shifter appears, programs the mind control Pyramid to turn Wonder Woman into Wonder Bimbo! The fiend disappears. Don't touch that pyramid Miss Prince!
The shape shifter secretly watches. Stalkers! An inter-galactic menace on every planet. A few chance events save Diana but finally she picks up the pyramid. Diana Prince quickly senses the trap but she can't let go of the pyramid. No matter how hard she tries the pyramid sticks to her hands. With each passing minute, she is less Wonder Woman and more Wonder Bimbo!
Even spin transforming into Wonder Woman doesn't help. She only half transforms with no magic belt and no golden lasso. Caught halfway, the superheroine is still helpless. With each passing moment, she is less Wonder Woman and more Wonder Bimbo. Only once chance, a tiara toss! Her ancient weapon saves her. A second spin later a fully transformed into Wonder Woman. She quickly dispenses with the treacherous pyramid. The Amazing Amazon Princess is ready to punish the evil alien shape shifter!
The shape shifter appears and taunts Wonder Woman. Swing and a miss and he is gone again. A strange buzzing? Oh no. It's an invisible Antarian Death Fly. Swat as she may Wonder Woman can't catch the invisible menace. CRUNCH! Wonder Woman get a poisonous, paralyzing insect bite. She slowly weakens. All her swings and kicks are useless against her invisible enemy. She helplessly falls to her invisible opponent.
The victorious shape shifter reappears. He lifts and carries the helpless Wonder Woman onto the couch and binds her with her own magic lasso. FIEND! Our favorite classis interrogation follows. Fight the magic lasso's compelling power as she may, no one can resist the golden lasso. In classic fashion, Wonder Woman admits her secrets. The evil alien shape shifter removes her magic belt, feminum bracelets and tiara. He gleefully rubs Wonder Woman's bare wrists and tiara.
Admitting, her weakness to chemicals, Wonder Woman is easily dispatched. Lots of lovely limp play follows with her legs, foot worship, crotch rubbing, head and face play, topless breast play and topped off with lift and carry follows.
The shaper shifter keeps using Wonder Woman's magic lasso against her! He orders the helpless Wonder Woman to become Wonder Bimbo! Wonder Woman valiantly fights the command but magic lasso power is irresistible! Finally Wonder Woman becomes Wonder Bimbo, an air headed sex crazed nympho.
Lots of other fun things happen but we can't talk about them here.
Available at www.clips4sale.com/67405/