"Wonder Woman in Haunted Hotel" from Anastasia Pierce
WONDER WOMAN IN THE HAUNTED HOTEL
HD 1920 – http://www.clips4sale.com/5196/20414061/cid746da60019dd8524d50d0852c9
HD 1440 – http://www.clips4sale.com/5196/20414009/cid746da60019dd8524d50d0852c9
HD 1280 – http://www.clips4sale.com/5196/20414091/cid746da60019dd8524d50d0852c9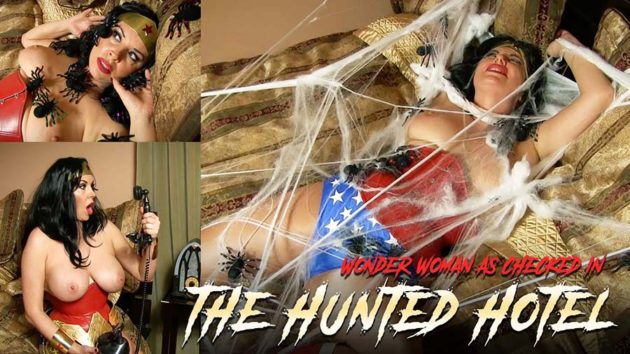 Summary: Time to check in the Haunted Hotel Wonder Woman! Of course Wonder Woman does not know it is a haunted hotel. She just think it looks a bit strange, empty and eerie in the hallway. She thinks that she will be safe once in her room but somehow.. things gets worse!
Poltergeist and supernatural phenomenon. Spirits and some of her biggest fear will come come to life! Special FX, glitches and supernatural voices. Come find out what kind of grave danger Wonder Woman will have to face on her own…
Things will get worse, worse and worse. But, one thing for sure, She will be resting in peace for a very long time…
Includes: Anastasia Pierce as Wonder Woman, Super Heroine in Danger and Peril, Fantasy, Clothes disappearance, Embarrassment, Paranormal, Spooky, Magic Control, Poltergeist, Glitch, Special FX, Scary, Spirits, Halloween Special, Arachnophobia, Web, Bondage, Wonder Woman in Danger, Peril, Cosplay, Magic Control, Damsel in Distress, Doom, Trap. No Escape!