"Wonder Woman: Recon Interrupted" from SHL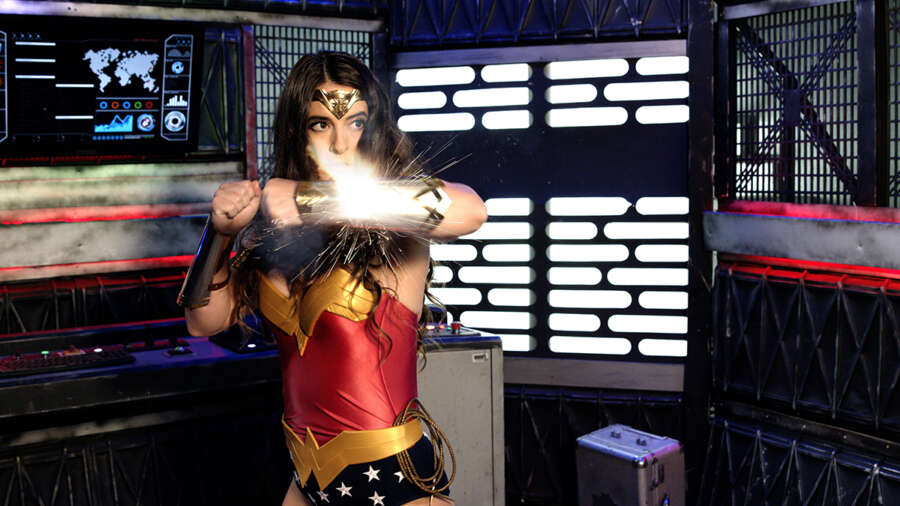 Price: $60
Length: 58 Minutes
Size: 4K HEVC: 15.3GBs / 1080P: 3.9GBs
Featuring: Abbie Maley / Nathan Bronson / Codey Steele
Synopsis
Wonder Woman goes to infiltrate an off-sight lab of Lex Luthor, downloading data from the secret labs computer of an unknown project. She has a run in with one of his guards, who is equipped with a 'super suit'. No big deal, Lex's tech is no match for her sheer strength. But he isn't alone and the tables quickly turn.
The guards decide – Luthor doesn't have to know about his unwelcome guest – and then its up to them to decide what happens to her next.
TOTAL RUNTIME: 58 MINUTES
Content
Pantyhose throughout film
Lose ending (no death)
Hardcore
Contains rape scene
Breast are shown
Gets debooted
Setup / Fight: 10 Minutes
Minimal amounts of internal dialogue
Off screen transformation
General fighting
Bracelet bullet blocks
Taser rifle renders her helpless
Fights back despite set backs
Gut punch
They search her for evidence she took from lab
Taser torture
Pin her forcefully to ground
Search her boot for evidence
One boot gets removed
Gets gassed until she's helpless
Forced BJ(s): 12 Minutes
Accidental discovery of power of lasso (used to try to restrain her from fighting back during BJ)
From this point forward Wonder Woman is compelled to stay compliant
At times she's encouraged to be enthusiastic, but still showcases her lack of desire for her sexual peril
Lasso interrogation
Identity reveal
Power belt removal
KO from strike to face
Over shoulder carry
Hardcore Scene: 34 Minutes
Unhappy with how dry she is, they use a vibrator while she's KOed to warm her up
She awakes quickly after the vibrator is used on her
Vibrator scene is brief
Tits are exposed
Pantyhose are torn at crotch
2nd boot is removed at beginning of HC scene
Lasso is kept on her neck during HC scene
She's generally instructed throughout scene on how to comply
Tone is wavering between forced and enthusiasm (compelled by lasso)
2 real orgasms during sex scene
Facial and cum on crotch
Lose ending (no death)
General Updates
Production of The Killing Joke has been slightly delayed due to COVID spike from Holiday season. Pending how numbers change within the next couple weeks will dictate rescheduling (big cast, harder to schedule with things like a pandemic).
Zatanna voice over dialogue is still planned to happen. I haven't forgotten. Thank you for your unreasonable patience.
NEWSLETTER
https://www.superheroinelimited.com/newsletter
Sign up, I have some plans for 2022 that will exclude anyone who is not a part of it. More to come on that later… in the newsletter of course.
2022
I have some big plans this year. No clue how they will pan out or if they could possibly live up to the hype. I want to increase the amount of films I release in a calendar year, aiming to deliver roughly 10-12 films this year. I want to increase the quality of my productions above what they are set at currently. I want to be creative and deliver unexpected content in the films that I make. All of this is possible because of your support. I want to thank everyone of you whom don't share my films, with one another or share them to tube sites. The only way I can continue to raise the bar on my productions is with money and I will never ask you to buy a film you are not interested in. I will only ask that you do right by me in not sharing the content you purchase to avoid or slow down how soon my content ends up on pirating websites. Scaling up from where I am at can only happen with capital and being an indie/fetish filmmaker I too cannot survive the massively harmful wounds of piracy (Even Disney with Black Widow suffered massive losses due to this, so if they can't avoid it… neither can I). Those of you who take a chance with preordering my content: I can promise you… you are the only reason SHL has kept its chin above water. Securing a financial foundation before a film has a chance to be pirated is critical to my business now more than ever. So, thank you, thank you, thank you.
I also want to encourage you to stay active in my comment section, within reason. I do want to hear your thoughts about the work, ideas about how it can grow or change. But I do ask that your critiques offer productive criticism, and that your suggestions are about how things can change, not expecting me to somehow rewrite history for content that's already been shot. Do consider that I shoot content in batches. If I can work with a specific actress, sometimes I will work with her 2-3 times in one week and release those films over the course of a year or more. That helps the bottom line for me to be able to save cost on things like airfare, hotel costs, transportation etc. But… it also slows down my ability to react to suggestions. Like, if you enjoyed Abbie as Supergirl in Brothers Vengeance and had ideas for what I could do next with Abbie… I had already shot 3 films with her that took me over a year to release. So suggestions like: I am burnt out on ___________ or, next time can we see ______ do ______________. – Those suggestions while I am interested in hearing them will most likely not impact the next 3-5 films. Not because I don't take your feedback seriously, but because I do not fly to LA once a month to accommodate the ability to pivot in reaction to immediate feedback.
I know I can be blunt, I don't know how not too. Be reasonable with me and I will be honest with you.
Thank you all again for buying my films, for writing comments, or being excited about things that I am up too. I love making these films, I think my best work is ahead of me and I am ready to keep coming up to bat.
Here's to 2022, hope you enjoy this film