Zatanna: Feud of Zatara (OUT NOW)
Hey gang,
Zatanna: Feud of Zatara has been RELEASED! Thank you for your patience, I truly do appreciate it. That being said…
The current release will NOT contain Voice Over audio. In the near future (when Alex Coal is feeling better) I will send a new copy with Voice Over work included (internal monologue). So if purchase the film today, you will receive a download at a later date of the updated film (if internal monologues are your thing).
If you are a PREORDER customer check your inbox and spam folder for a download link.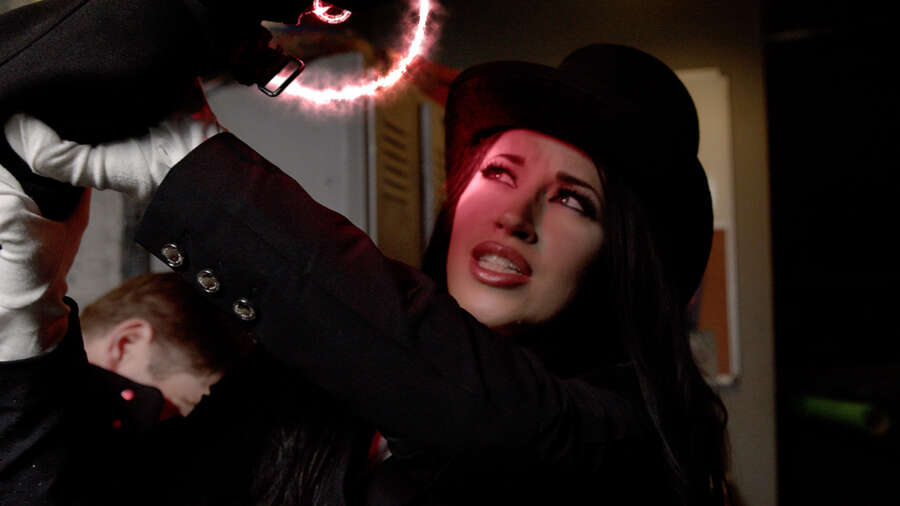 Trailer
Purchase
http://www.superheroinelimited.com/zatanna
Price: $60
Length: 1 Hour and 6 Minutes
Size: 4K HEVC: 15GBs / 1080P: 3.75GBs
Synopsis
An old friend (Dante) unexpectedly shows up to Zatanna's Magic Show, catching her eye in the middle of her performance. After the show they catch up… Dante has found a potential lead to finding Zatanna's missing father.
Their reunion is interrupted when a disgruntled Mage (Zorison) attacks Dante. The Mage has history with her father and her family tree… a debt is owed and he wants blood.
Runtime
1 Hour and 6 minutes
Hands behind back 'beat down' scene starts at 11 minutes, ends at 19 minute marker
(Includes tons of body shots with her gagged, then a few throat shots to render her vocals useless)
Hardcore scene starts at 25 marker
Oral throughout hardcore scene
Vaginal insertion at 39 marker
Boots off at 53 minute marker
Final hardcore scene is 2 on 1
Zatanna's costume has pantyhose under the fishnets
Fishnets crotch and pantyhose crotch are torn open in separate shots in film (closeup)
Zatanna's costume only features high heels for intro of film
Breasts are exposed, corset stays on
Zatanna gets beat down with arms behind back
Zatanna gets choked and gag to prevent her spell casting
Bear-hugged from behind while on hands and knees
KO'ed before hardcore scene from bearhug
No over the shoulder shots
3 punches to crotch with one payoff
Unconscious for 6 minutes of oral
END SPOILERS:

Zatanna wins
For the sake of transparency… I never read Zatanna growing up. So before I decided to take on this film I decided to watch as much as I could about her on Youtube to catch up. So… if you want to appreciate the smaller details in my film I'd recommend checking out the link below
Youtube Link:
WONDER WOMAN STILL ON SALE
Throughout the month of May 'Wonder Woman: The Harvest' featuring Alina Lopez will be on sale for $40 down from $60. I forgot to end the sale… so I will keep it going until the end of June.
http://www.superheroinelimited.com/wonder-woman
FREE ONLYFANS
I decided to start utilizing my OnlyFans account. It will be free and contain things like BTS photos from shoots and the like. I don't know how often I will post there, but figured it might be a fun way to use media I haven't known what to do with as of this point in time. Might release something for free there this summer that will be exclusive to the site.