BATGIRL: DOUBLE-CROSSED (OUT NOW)
Price: $60
Length: 52 Minutes (not including 2nd ending)
Size: 4K HEVC: 20GBs / 1080P: 3.5GBs
Synopsis
Batgirl interrupts an alleyway robbery before being ambushed by a 2nd thug. Handling them both with ease she lets her guard down and soon fines herself being dragged into the locker room of a boxing gym. She's about to receive a lesson in humility.
Film comes with a win/lose ending. Fair warning: the 'win' ending is dark.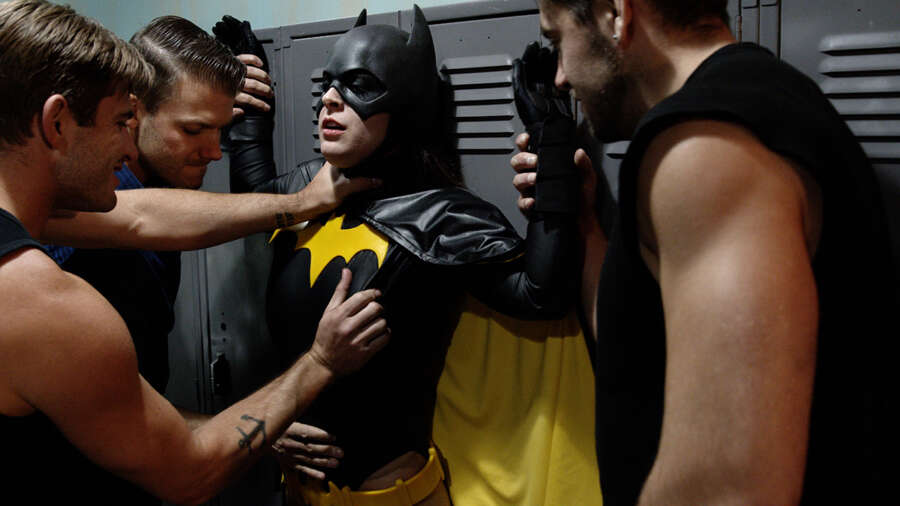 Runtime
52 minutes
Stars: Abbie Maley
3 V 1
Contains: Win/Lose Ending
Leotard with Pantyhose
10 Minutes (setup/fight) before Hardcore scene begins
The fight is very 'to the point' they don't give a gratuitous amount of beatdown when she loses her edge
Spoiler (Highlight text):

She's tricked by a bait and switch victim, gets drugged when she thinks she's safe

Spoiler for Dark Win Ending (Highlight text):

Batgirl grabs the bad guys weapon on the floor and ends them

'Over the shoulder' shot
Backbreaker fight ender
Multiple KOs (one during hardcore scene)
Hardcore scene starts at 10 marker
Oral throughout hardcore scene
She's tied to bench during oral scene for 14 minutes
Vaginal insertion at 25 marker
Boots off at 38 minute marker
Breast exposed at 46 minute marker and 48 minute marker
Unmasking Scene – Midpoint during hardcore scene at 33 minute marker
Partially KOed for small portion of hardcore scene – very very brief
Real cum shots – no fake fluid
If the Bat isn't quite your style for the month of August 'Supergirl Therapy' will be on sale for $30 dollars (Normal Price $50) Click the below link to read more about Melody Marks Supergirl film.
For those of you who missed it, Abbie was previously in my Supergirl film at the end of 2020, link below
Don't forget to sign up to my newsletter, sometime this year I will send out some free content via a email blast that will only be available to those who are subscribed.
https://www.superheroinelimited.com/newsletter
I decided to start utilizing my OnlyFans account. It will be free and contain things like BTS photos from shoots and the like. I don't know how often I will post there, but figured it might be a fun way to use media I haven't known what to do with as of this point in time.